All articles with 'animation' Tag
It's Halloween time. As adults, we can't go trick or treating. We can of course dress up in costumes and entertain others. But what about the poor spreadsheets. Don't they deserve some of this fun too?
Hell yeah! So I made a spider web generator in Excel. Just use it to make a spooky cob web pattern and add it to your report / dashboard / time sheet or whatever else. Surprise your colleagues.
Continue »
We love spreadsheets. And of course, once every four years, we also get mad about soccer. So why not merge both of them in to one awesome, frivolous and fun thing: Introducing….
Excel soccer game
The best part is you don't have to run up to play this. Set your aim and let RANDBETWEEN() decide your fate.
Continue »
We are in the midst of my Power BI Play Date course launch. I have opened the enrollments for this program last week and there is a tremendous response to this program.  To celebrate the new course launch and show you the lighter side of it, let me share a few breathing exercises built in Power BI.
Continue »
Few days ago, I saw a beautiful homemade science experiment on Sand Pendulums on Bruce Yeany's YouTube channel. Go ahead and check it out. It is a cool project to do with your kids.
I will try this experiment with kids during school term holidays around Easter. But first, I wanted to try the simulation in Excel.
Simulating sand pendulum pattern in Excel
Take a look at the final simulation above. This is what we will create in Excel.
Continue »
Recently I saw an interesting Earth Venus cosmic dance video on Facebook. See the original video below or here.
Although this is not entirely accurate from physics & astronomy perspectives, the dance is a stunning example of patterns that are generated by simple things.
I wanted to recreate this cosmic dance in Excel. How else am I to get my spreadsheet fix on a Saturday?
Here is a quick demo of the final outcome. Read on to learn more about the Earth Venus cosmic dance.
Continue »
This is a guest post by Chirayu, a member of Chandoo.org forum.
Animating Charts in PowerPoint cannot be done without the help of 3rd party software's that create a flash file of the chart & embed it into the presentation.
However there is a workaround for this. Save your chart as multiple images & insert them (overlapping on top of each other). Use VBA on Developer tab Controls such as Combo Box, Option Button, Check Box etc. to "Bring To Front"" the corresponding image. Thus giving the illusion of an Animated Chart in PowerPoint.
This guide will teach you how to animate the charts, using the three Developer tab Controls that were mentioned before. The code & functionality only works in Slide Show Mode. File must be saved as PowerPoint Macro-Enabled Presentation (*.pptm)
Continue »
During last week, an alert reader of our blog, Jørgen emailed me a link to "How Trump happened".  It is an interactive visualization by Wall Street Journal. Jørgen asked me if we could replicate the visualization in Excel. My response: "Making a new chart in Excel? Hell yeah!"
Read on for awesome visualizations and full explanation.
Continue »
Podcast: Play in new window | Download
Subscribe: Apple Podcasts | Spotify | RSS
In the 48th session of Chandoo.org podcast, let's make some animated charts!!!
What is in this session?
In this podcast,
Announcements
Why animate your charts?
Non-VBA methods to animate charts

Excel 2013's built-in animation effects
Iterative formula approach

VBA based animation

Cartoon film analogy
Understanding the VBA part

Example animated chart – Sales of a new product
Resources and downloads for you
Continue »
Today is Diwali, the festival of lights. I wish you and your family a happy, bright and prosperous festive time. May your house shower with lots of light, laughter and love.
Diwali is one of my favorite festivals. It is a time when all family members get together, eat delicious food, laugh to hearts content and light up diyas (small oil lamps) to celebrate the victory of good over evil. This year, my kids (who are 6 yrs btw) are very excited about the festival. They are looking forward to lighting up diyas and crackers (fire works).
To celebrate the holiday, I made something for you.
An animated flower pot firework in Excel.
Continue »
Today is Holi, the festival of colors in India. It is a fun festival where people smear each other with colors, water balloons, tomatoes and sometimes rotten eggs. This year we wanted to play with only water guns, but kids vetoed that idea vehemently. So we ended up driving to my sister-in-law's place to play with colors (there were no rotten eggs or tomatoes, thankfully).
Let me smear a few colors on you
I would love to splash a jug full of color water on you and say Happy Holi. But the internets have not advanced thus far. So I am going to give you the next best option.
An Excel workbook to play holi
Continue »
This is a guest post by Krishna, a football lover & one of our readers.
The wait for lifting the most valued priced in football for Germans was finally over. For a football fan, world cup is best time that is scheduled every four years and that if your favorite team lifting the trophy is like your crush is going on a date with you. 🙂
A sneak-peek at the final dashboard
Here is the final dashboard (it has more functionality than depicted). Click on it to enlarge.

Continue »
On July 4th this year, I published an animated fireworks chart for you. Many of you liked it. Quite a few wanted to know how its made.
So here is a video explaining the construction of fireworks.
(You can see this video on our YouTube Channel too)
Continue »
To all our readers & friends from USA,
I wish you a happy, fun & safe 4th of July.
For the last 4th of July (2013), we (Jo, kids & I) were in USA. We went to Washington DC to meet up a few friends for that weekend. And we had one of the most memorable evenings of our lives when we went to national mall area in the evening to watch beautifully choreographed fireworks. Kids really loved the amazing display of fire-crackers and enthusiasm.
While we all are back in India this time, it doesn't mean we cant celebrate 4th of July. So I made some fireworks. In Excel of course.
Here is a little Excel animation I made for all of us.
4th of July Fireworks – Excel animation
First watch this quick demo (<15 secs)
Continue »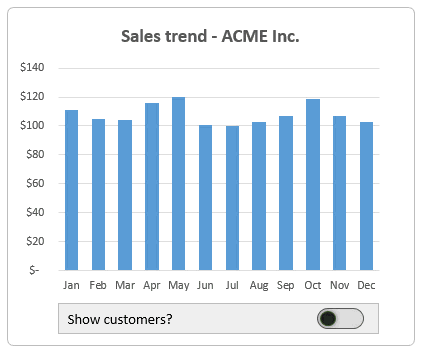 I have a confession to make.
I am not sure how to describe this new thing I made in Excel / VBA. So first take a look at it.
Read on to learn how you can create something like this using Excel & a little bit of VBA.
Continue »

As you may new, the newest version of Excel is out for a while. I have been using it since last 6 months and enjoying it. Today, lets understand 10 things in 2013 that wowed me (and probably you too).
Continue »