Archive for November, 2012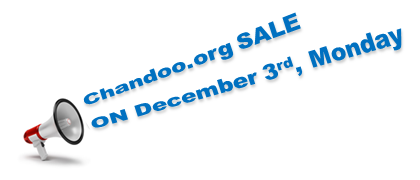 Here is a quick announcement folks!
Many of you asked me whether we are going to have a holiday sale at Chandoo.org this year. Of course we have a sale!

Details of Chandoo.org Holiday Sale – 2012
Dates of the sale – 3rd & 4th December, 2012 (Monday, Tuesday)
What is on sale?
This year, you can save up to $50 on our best selling training courses.
Continue »

In the first part on our Modeling Best Practices series, we learned 5 best practices to follow. This article shows how to automatically implement the best practices using macros.
Continue »
In this post we will learn how to use the Advanced Filter option using VBA to allow us to filter our data on a separate sheet. This has been requested by a lot of our readers and here is how we will use them.
Continue »
Hi readers… I am in Chennai this week, conducting in-house training at Renault Nissan on Advanced Excel. As I am busy teaching Excel & making young graduates awesome in it, I will not be able to write much on the blog. But don't worry. We have some great articles coming up from Hui & other […]
Continue »
A Quick Question for you!
Don the hat of a financial wiz today. What I have for you are the financials of two companies: Cappuccino and Latte – Two dot com companies (Sometimes they also make revenues ;-))
Which is better – Cappuccino or Latte? ( Hint: It's a trick question! 😉 )
It may seem obvious that Latte is performing better (Higher the revenue, the better the performance!). Sometimes a single source of data does not speak the full story!
Continue »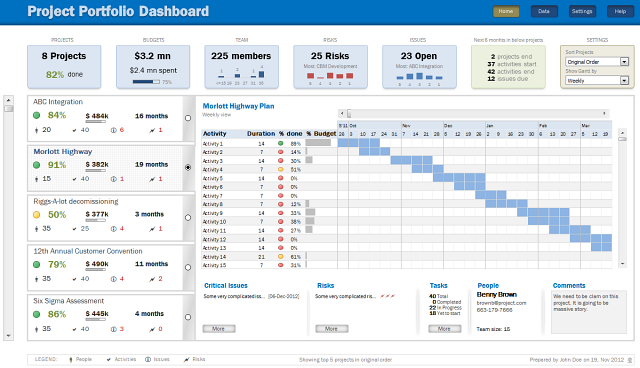 In this 2 part tutorial, we will learn how to design a project portfolio dashboard. Part 1 discussed user needs & design. Part 2 will show you Excel implementation.
Final Implementation – Project Portfolio Dashboard
First lets take a look at the finalized dashboard implementation. Continue reading to learn more & download this dashboard.
Continue »
Behold, here is the official trailer for our Project Portfolio Dashboard, releasing worldwide on 19th November (Monday), 2012.
Continue »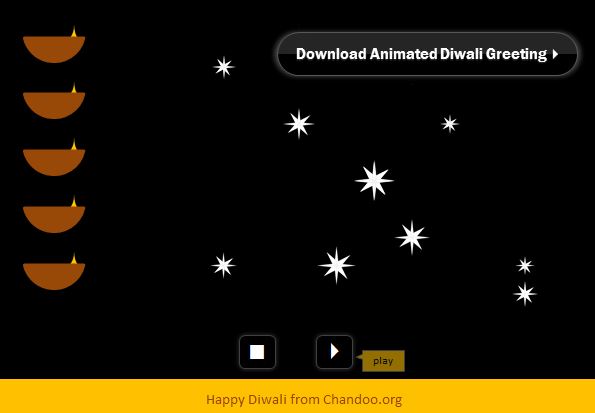 My heartiest Diwali wishes to all our readers.
The spirit of Diwali is to encourage people to spread joy, celebrate good things and throw away darkness (evil). These ideas are universal. So let me wish you a very happy Diwali.
Diwali, festival of lights, is celebrated in the month of October / November. It is one of my favorite festivals since childhood. A time when all family members get together, celebrate all the good in their life, laugh and light a few fire crackers (fire works).
This year, our kids (Nishanth & Nakshatra) too are excited about the festival. They are eager to light diyas (small lamps), watch the fire works and enjoy. Naturally I do not feel like opening Excel.
But then…,
Sometime during my morning coffee, I thought "hey, why not create a small Diwali greeting using Excel?"
So here we go.
Continue »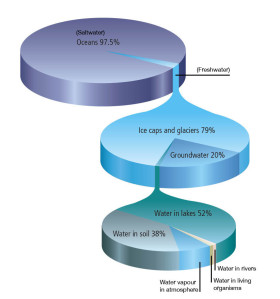 There are some charts that look so stunning and yet confusing. You cant make up your mind whether it tells a compelling story or it is just plain wrong.
Today, let me present you one such chart. I call this Pie of a Pie of a Pie chart.
Continue »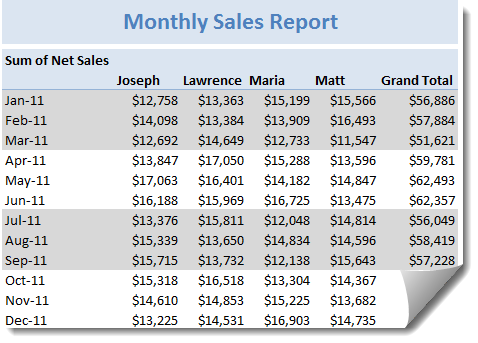 Here is a quick pivot table tip.
When reporting summaries by month, it would be better to highlight 3 months at a time (Jan, Feb, Mar in one color, Apr, May, Jun in another color) than showing all in one color. Today, lets learn how to do this in easiest possible way.
Continue »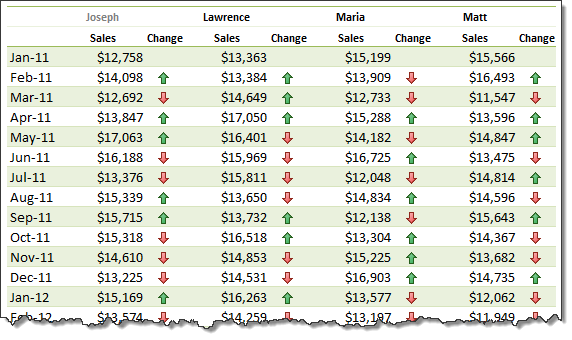 Pivot tables are great help when analyzing lots of data. One of the common questions managers & analysts ask (when looking at monthly sales data for example) is,
How is the monthly performance of our teams (or regions, products etc.)?
A pivot report can answer this question in a snap. Today lets learn how to do that.
Continue »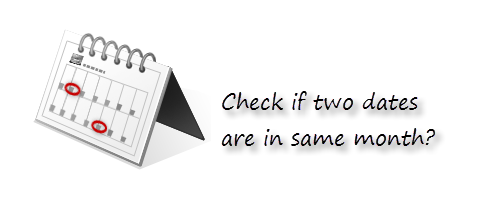 Its Home work time folks. Sharpen your Excel pencils and get cracking.
Find out if 2 dates are in same month
Lets say you have 2 dates in A1, A2.
Q1. What formula tells us if both of them are in same month?
Both dates must be in same month & year!
Go ahead and post your answer in comments.
Continue »