My heartiest Diwali wishes to  all our readers.
The spirit of Diwali is to encourage people to spread joy, celebrate good things and discard darkness (evil). These ideas are universal. So let me wish you a very happy Diwali.
Diwali, festival of lights, is celebrated in the month of October / November. It is one of my favorite festivals since childhood. A time when all family members get together, celebrate all the good in their life, laugh and light a few fire crackers (fire works).
This year, our kids (Nishanth & Nakshatra) too are excited about the festival. They are eager to light diyas (small lamps), watch the fire works and enjoy. Naturally I do not feel like opening Excel.
But then…,
Sometime during my morning coffee, I thought "hey, why not create a small Diwali greeting using Excel?"
So here we go.
Happy Diwali Animated Chart
See the chart demo here: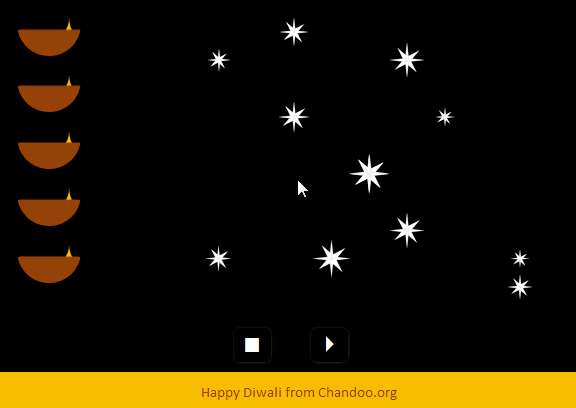 How does it work?
Well, that is for you to figure out. I am too lazy to lift the full veil for you. But here are some clues:
The greeting is just a bubble chart
Few bubbles are for the tinkling stars
Few more for the diyas
Background VBA just modifies the bubble size thru a simple scaling factor
For more, see this: Animated Hurricane Sandy Chart
Download and play with this
Click here to download the animated Diwali greeting & play with it. Examine the code & formulas to understand how this is created.
Do you like this Chart?
Do you like this chart? Area you able to figure out how this is made? Please share your ideas & suggestions using comments.
If you are feeling adventurous, create your own animation (using Excel of courses) and share it with us all 🙂
Want to create such animated charts – Read on
Animation is a powerful way to attract user attention. Check out these pages to learn more.
Want more? Consider our VBA course
If you want to learn more about animation & other VBA techniques, consider joining our online VBA classes. In a few weeks, you can master all aspects of Excel VBA & Macros.