All articles with 'today()' Tag
Congratulations to you if your job does not involve dead lines. For the rest of us, deadlines are the sole motivation for working (barring free internet & the coffee machine in 2nd floor, of course). So today, lets talk about a very familiar problem.
How to highlight due dates in Excel?
The item can be an invoice, a to do activity, a project or anything. So how would you do it using Excel?
Continue »
Excel has hundreds of formulas. But as a new learner or user, you may want to just focus on top 10 formulas to get the most out of it. Assuming you already know the basics (check out Beginner Excel page if you are complete newbie), here is a list of top 10 Excel formulas for you.
Continue »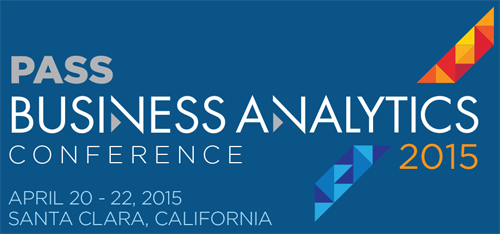 In about 3 days, I am leaving to USA for participating in PASS Business Analytics conference – 2015. It is an annual event for people in analytics profession. This is the first time I am attending & speaking at the event. I am so excited for many reasons.
I will be meeting many Excel bloggers, authors & internet friends for the first time
I will be meeting many of you (readers, listeners, followers & customers of Chandoo.org) too
I will be speaking at an awesome conference
I will be visiting San Francisco for the first time in life
I will be meeting a few college friends too
All this excitement means, I have too much going on. But that shouldn't leave you out . So here are a few awesome Excel links for you. Check out and learn.
Continue »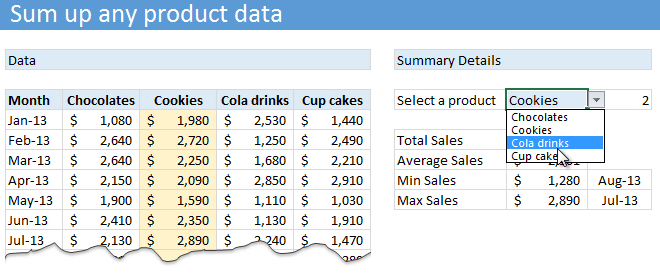 Today lets learn about Excel CHOOSE() function.
CHOOSE eh? What does it do?
To understand CHOOSE() and appreciate its uses, lets invent an imaginary boos-subordinate pair.
Jasmine is the boss. She is, well, lets call her peculiar. She likes olives, Tuesdays & color Red. She hates potatoes.
Martin is the faithful butler of Jasmine. He is obedient, quirky and tall. He likes lotuses, Fridays & color blue. He hates potassium.
Enter Jasmine's scarf problem:
Jasmine likes to wear a different colored scarf every weekday. She likes to wear Red colored scarf on Mondays & Tuesdays. She likes to put on the blue polka dot scarf on Wednesdays. On Thursdays, she wears her olive colored scarf. On Fridays & Saturdays, she prefers the lovely orange blue scarf. Sundays are no scarf days.
No wonder she is peculiar.
Continue »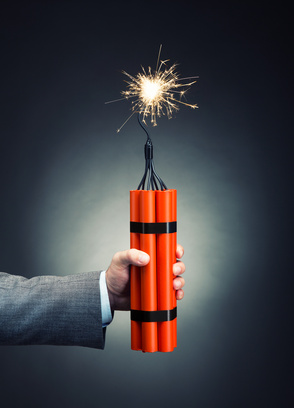 If you're building large models, then you may want to use volatile functions – including OFFSET(), INDIRECT(), and TODAY() – with caution, because unless you know what you are doing, they *might* slow Excel down to the point that data entry is sluggish, if not downright tedious.
In fact, you *might* want to consider getting out of the habit of using these functions at all if there are alternatives, and you might want to replace volatile functions in your existing models with non-volatile alternatives…I have reduced recalculation time in large models from minutes to milliseconds by doing just that!
So what the heck does volatile actually mean? And why should you care? Let's find out, shall we?
Continue »

Today, let's travel in time. Pack your photon ray guns, extra underwear, buckle your seat belts and open Excel!
Of course, we are not going to travel in time. (Come to think of it, we are going to travel in time. By the time you finish reading this, you would have traveled a few minutes)
We are going to learn how to travel in time when using Excel. In simple terms, you are going to learn how to move forward or backward in time using Excel formulas.
So are you ready to hit the warp speed? Let's beam up our Excel time machine.
Continue »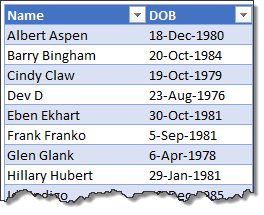 Lets say you have a list of employees and their birthdays. Now you want to sort this list, based on their birthday, not age. How would you do it?
Continue »
Learn how to create a birthday reminder worksheet in excel in this video post. You can also download a template to keep track of upcoming birthdays and anniversaries.
Continue »
Jennie, a sweet and ambitious lady set out to do 101 things in the next 1001 days. She took the inspiration from Day Zero Project. Not stopping there, she prepared a cute little excel sheet to keep track of all these new year resolutions and sent it to me.
I think this is a swell excel template if you want to keep track of your goals or new year resolutions or just manage a list.
Continue »
This is second part of 2 part series on conditionally formatting dates in excel.
Highlighting Repeat Customers using Conditional FormattingIn yesterday's post we have learned how to conditionally format dates using excel. In this article, you will learn how to use these conditional formatting tricks to highlight repeat customers in a list of sales records.
Continue »
This is first part of 2 part series on conditionally formatting dates in excel.
Conditional formatting is a very useful feature in Excel. You can use Conditional formatting to tell excel how to format cells that meet certain conditions. For eg. You can use conditional formatting to show all negative values in a range in red color. Today we will learn how to use conditional formatting to format dates.
Continue »
Often when you need to generate a sample from large data set, you may want to pick data from a random date. In such cases, you can use excel's RAND() and RANDBETWEEN() formulas to pick a random date. Here I have included few examples,
Continue »
Calculating elapsed time is very common whether you are managing a project or raising a baby. Elapsed time is nothing but interval between a starting point and the current point in time. We can use excel formulas to calculate elapsed time very easily. In this post, learn how to calculate elapsed time in days, working days, hours, weeks, months, years, minutes and seconds.
Continue »