All articles with 'shortcuts' Tag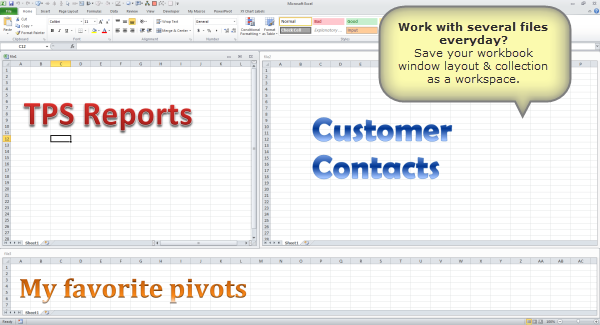 If you work with multiple Excel workbooks everyday, then here is a handy tip.
Use Save workspace feature to save your workbook collection & layout.
Continue »

Here is a quick tip to start your week. Ever wanted to insert a few columns in between like this? Here is how to do it. Hold down control key. Select one column at a time Right click and choose Insert Done! Bonus tip: You can use this to insert rows too! More Quick tips.
Continue »
Welcome back. Did you have a good weekend?
We ate fish, watched a movie, had hilarious moments watching the kids and didn't even leave the house for anything other than to buy some fish.
Coming back to Excel, I want to share a simple productivity tip with all of you. I accidentally learned this and now I use it often to speed up when I am working on large excel files.
Jump to Any Cell / Worksheet using Name Box
If you want to quickly jump to a named range or another worksheet, here is a quick trick. Just enter that name or address in the name box (top-left corner, next to formula bar). And bingo, you are on the target cell or sheet.
Continue »
Few weeks back I have invited all of you to share your excel keyboard shortcuts in a open thread. More than 50 people commented on that post and shared a hundred excel keyboard shortcuts with us. There were so many wonderful keyboard shortcuts and tricks buried in the comments section of that post. During the […]
Continue »
Okay, this is a cop-out, but I have been busy and not-in-a-mood-for-writing in the last 2 days. (I don't know, but I feel a bit low, may be it is all the snow around and constant work due to excel school and day job).
So, let us have an open thread on Excel Shortcuts. I will start by listing down all the excel keyboard shortcuts I use regularly,
Continue »
I could barely sleep last night. Even though I came home, my heart was in that hospital room only. I got up at 5:30, and came to see my wife and kids by 7:30. Now that they all are sleeping, I can quickly whip an excel post, to help you make twins, clones and duplicates.
Continue »
That is right. Next week is your week on this blog. I will post content that is shared by you. So go ahead and share your tips and tricks with us. Read more to find out how you can share your tips with the community.
Continue »
We drove down to one of the Washington's best attractions. The Mt. Rainier National Park. It is one of the best natural attractions I have ever seen. The mountain, the greenery and the drive are totally awesome. The mountain looked breathtakingly beautiful and the whole park looked awesome with fall colors. Do visit Mt. Rainier […]
Continue »

– During formula typing, adjusts the reference type, abs to relative, otherwise repeats last action + – Inserts current date +
Continue »
Often we work with large data sheets and it becomes tedious if you want to compare data / formulas etc. You can try split (menu > window > split or alt+w+s) to break the sheet in to two. But there is another cool thing you can do, open a new window for the spreadsheet. Just […]
Continue »
F2 – Edit a cell, takes the cursor to the end of the cell F4 – Repeat last action (for eg. if you have inserted a row, repeats that action again) – doent really work with paste through. Ctrl+1 – Open "Format cell dialog" What are your 3 most favorite excel key board shortcuts?
Continue »