All articles with 'recommendations' Tag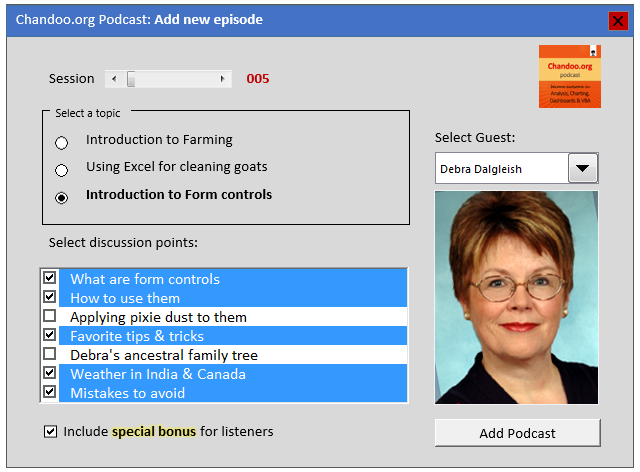 Podcast: Play in new window | Download
Subscribe: Apple Podcasts | Spotify | RSS
In the 5th session of Chandoo.org podcast, we are going to demystify form controls.
I am very happy and excited to interview my good friend, fellow Excel MVP, author, blogger and virtual mentor – Debra Dalgleish about this topic.
In this podcast, you will learn,
What are form controls
When you would use them?
Example form control – Combo box
How form controls differ from active-x controls
How to enable form controls in your Excel?
Various important form controls
Special bonus & how to obtain it
Continue »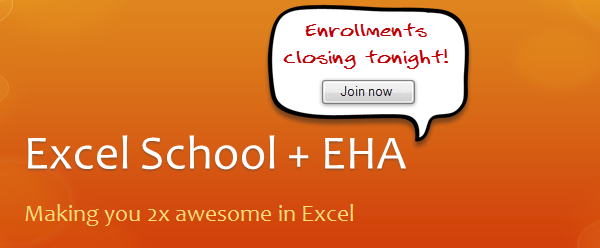 As you may know, I have partnered with Daniel Ferry to offer an irresistible bundle of Excel goodness: Excel School + Excel Hero Academy.
Today is the last day to enroll in this combined program. More than hundred eager & enthusiastic bunch of participants have already joined us. As you read this, there are dozens of people becoming awesome in Excel.
If you have been waiting to enroll, now is the time.
Continue »
Hello friends & Chandoo.org readers,
I am super-excited to announce an my first joint Excel course with none other than Excel Hero – Daniel Ferry. For the the first time, you get basic, intermediate, advanced & super-advanced Excel + VBA course in one neat package.
I am happy to present Excel School + Excel Hero Academy course bundle for your consideration.
What is this course bundle & How it can help you?
Simply put, this course package is designed to make you 2x awesome in Excel, VBA & Dashboards. Please watch below video to understand how our course can help you.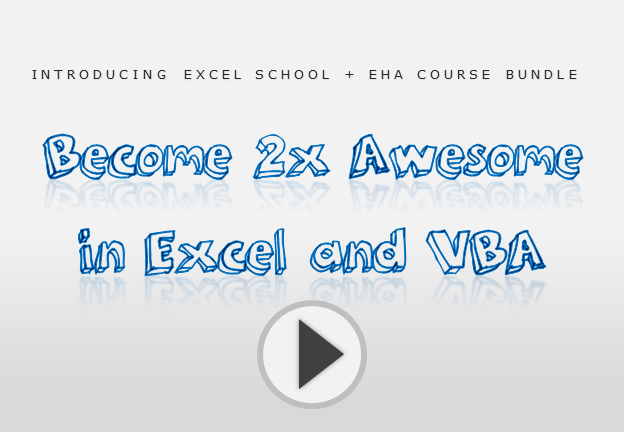 Continue »
Business analysis & modeling are new areas where a lot of fresh graduates find themselves when they start work. Unfortunately, this is also an area where there is very little structured information. Thanks to Danielle's new book, Using Excel for Business Analysis, you can understand the basics of financial modeling, good spreadsheet design & business analysis
First up, let me congratulate my good friend Danielle for the successful launch of her first book. Today, I want to share my review of this book with you.
Who is this book for?
You are someone who uses Excel to analyze & model parts of a business,
You are not sure how to go about it
You started using Excel in last few years and lack structured approach to spreadsheet design
You are a fresh MBA hoping to become an analyst
Then this book is for you.
Continue »
Francis J Hayes runs probably one of the most popular excel news letters. His email newsletter, called as "The Excel Addict" has an interesting nugget, tip or trick every week. I have been reading his emails for the last few months and I really enjoy them. So naturally I got curious when I heard about Francis' e-book titled "101 Secrets of a Microsoft Excel Addict". Yesterday I purchased a copy of the book and there are so many hidden gems in the book that I had to tell you about it.
Continue »
Charley at Excel User is running a sale on the excel dashboard kits. It is too good to be true. You get the plug and play dashboard kits for half the regular price. Go here to avail this offer and read on, if you are not sure what the dashboard kit is.
For a long time now, I have been an advocate of Excel User's dashboards. Charley is a pioneer when it comes to excel based dashboard reporting. He has popularized several techniques like using sumproduct formula, using camera tool etc. I have been such a fan boy of his work that I even interviewed him once on this blog.
Continue »
My Friend and long time Microsoft Excel MVP, Jon Peltier has released a wonderful little excel charting utility called Cluster Stack Chart Utility. Out of curiosity I have mailed Jon and asked him if he could send me a copy of it so that I can review the product and recommend it to PHD reader community. He is kind enough to mail the add-in to me and here goes my review of the tool.
Continue »