In the 5th session of Chandoo.org podcast, we are going to demystify form controls.
I am very happy and excited to interview my good friend, fellow Excel MVP, author, blogger and virtual mentor – Debra Dalgleish about this topic.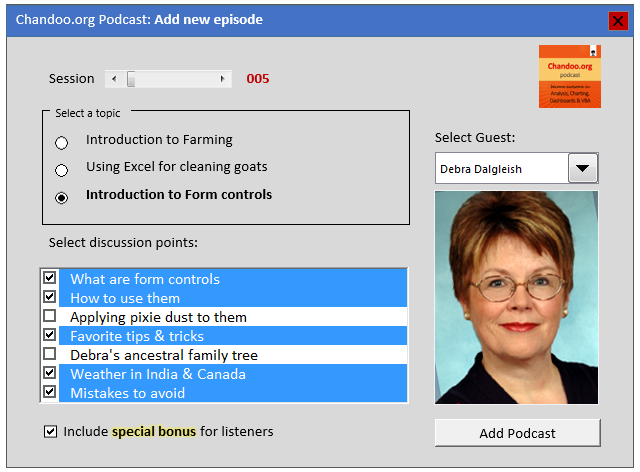 Before we proceed in to the session, let me remind you:
Get new episodes automatically!
That is right. Chandoo.org uses latest & most magical software. That means, whenever a podcast goes live, an army of magical fairies carry the sound-waves and bring them right to your mobile phone or tablet. And all you have to do is subscribe.
What is in this session?
In this session we are going to explore form controls, a powerful feature of Excel that makes your workbooks interactive. Debra is a world famous expert on all topics of Excel (especially data validation, pivot tables & form controls) and this session is very entertaining, informative and practical.
Special gift for our listeners:
In this podcast Debra mentions about her User forms training kit. I
highly
recommend this product for anyone hoping to learn user forms, data entry forms and form controls. As our podcast listener, if you choose to purchase this training kit, you get
20% discount on Debra's User Form Training kit (if you buy before April 30th, 2014)
Special bonus from me: 14 page guide & practice workbook on form controls
Listen to the podcast to know how to get these.
In this podcast, you will learn,
What are form controls
When you would use them?
Example form control – Combo box
How form controls differ from active-x controls
How to enable form controls in your Excel?
Various important form controls

Combo box
Command Button
Radio Button
Check box
Scroll bar & Spin button
List box

Compatibility of form controls between various version of Excel
Comparison of form controls with other types of interactive features in Excel
Debra's favorite form control tip
Special bonus & how to obtain it
Go ahead and listen to the show
Podcast: Play in new window | Download
Subscribe: Apple Podcasts | Spotify | RSS
Links & Resources mentioned in this session:
Debra's website – Contextures.com

Books mentioned:
Courses mentioned:
Articles & Discussion on Form controls
Other types of interactive features in Excel
Recommended Resource – Debra's User Form Training Kit
If you wish to learn more about user forms, form controls and how they can simplify life for your workbook users, then please consider purchasing Debra's User Form training kit. It is an eBook + Excel workbook combo that works very well and helps you understand these advanced concepts very easily.
Note: You get 20% discount on this if you buy before 30th of April. Listen to podcast for details.
Note about links: The links to various books & Debra's training kit are affiliate links. It means when you click on them & purchase, Chandoo.org receives some commission. I recommend these books because I genuinely love them. I would have recommended even if there is no benefit to me.
Transcript of this session:
Download this podcast transcript [PDF]
If you enjoy the podcast…,
Please do these 2 things. It means a lot me & our community.
Please leave an honest review on iTunes by clicking here.. It will help the show & its rankings immensely. Thank you so much.
Do you use form controls?
I use them in almost all my dashboards. They are really easy to set up and use. I also love slicers, hyperlinks, little bit of VBA and any other type of interactive features Excel supports.
What about you? Do you use form controls? What is your experience like? Please share using comments.