All articles with 'format painter' Tag
We can take any Excel workbook and format it until Christmas, and we would still not be done. But not many of us have so much of time or energy. So, today, lets talk formatting.
In this, you will learn how to
1) Use tables to format data quickly
2) Change colors of your worksheet in a snap
3) Use cell styles
4) Quickly clone formatting using format painter
5) Clear formats to begin with a clean-slate
6) Formatting shortcuts
7) Formatting options for print
and 8 ) Why you should not go overboard formatting and 10 other tips.
So go ahead and become a formatting pro.
Continue »
Podcast: Play in new window | Download
Subscribe: Apple Podcasts | Spotify | RSS
In the 43rd session of Chandoo.org podcast, let's talk about top time saving features of Excel.
What is in this session?
In this podcast,
Quick announcement about Awesome August
My 9 favorite time saving features of Excel
Remove Duplicates
Tables
Pivot Tables
Auto fill
Format Painter
Find & Replace
VBA / Macro Recorder
Auto save
Auto complete / Intellisence
Recap & Conclusions
Continue »

A lot of analysts swear strong allegiance to keyboard shortcuts. But when it comes to formatting a spreadsheet, these shortcuts go for a toss as formatting is a mouse-heavy activity.
But we can use a few simple & effective shortcuts to zip through various day to day formatting tasks. Let me share my favorite formatting shortcuts.
Continue »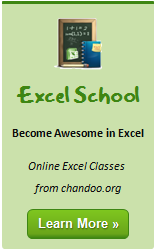 As you may know, I run an online excel training program, called as, Excel School. I have opened registrations for 2nd batch of this program on last Monday. Thank you very much for supporting this program wildly. In a few hours, I will be closing the registrations for Excel School.
Click here to sign up for Excel School
At the time of writing this post (around 9 AM IST on 21st), we have 103 students signed up for Excel School. This is certainly a bit more than what I expected. But, I am also confident and eager to help as many of you as possible. So go ahead and join the program, because, you want to be awesome.
Continue »