All articles with 'concatenate()' Tag
Use TEXTJOIN function to combine text values with optional delimiter. It is better than CONCATENATE because you can pass a range instead of individual cells and you can ignore empty cells too. Here is a sample use of TEXTJOIN Excel function.
Continue »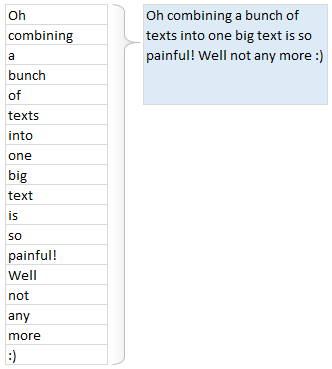 Ever wondered how to go from a bunch of cells with text to one big combined text? Like shown above.
Well, there is a simple trick. One of our readers, Grant shared this with us. Read on to learn this.
Continue »
Once you start using Excel to develop systems, budget, forecast and large tables of data you may come across the dilemma of "How do I know this is right" or "How do I truth check this".
This post will add a tool to your arsenal to help you out.
Continue »
Sometimes we think there is very little we can improve in something and then we come across an idea that would change our perceptions. I have been writing excel formulas for such a long time that it was easier to remember when I first shaved than when I first wrote a formula. (may be, because […]
Continue »
Find out how you can get a free e-book on excel and charting in this week's excel links.
Continue »
Here is a list of formulas I wish MS Excel had. Alas, we need to build some work-arounds to solve them though.
Continue »