All articles with 'blank rows' Tag
True story:
On Friday (17th April – 2015), I flew from Vizag (my town) to Hyderabad so that I can catch a flight to San Francisco to attend a conference. As I had 10 hours of overlay between the flights in Hyderabad, I checked in to a lounge area so that I can watch some sports, eat food while pretending to do work on my laptop. There was a gentleman sitting in adjacent space doing some work in Excel. As I began to compose few emails, the gentleman in next sitting space asked me what I do for living. Our conversation went like this.
Me: I run a software company
He: Oh, so you must be good with computers
Me: smiles and cringes at the stereotyping
He: What is the formula to select all the blank cells in my Excel data and highlight them in Yellow color
Mind you, he had no idea that I work in Excel. We were 2 random guys in airport lounge watching sports and eating miserable food.
Me: Well, what are you trying to do?
He: You see, I am auditing this data. I need to locate all the blank rows and set them in different color so that my staff can fill up missing information. Right now, I am selecting one row at a time and filling the colors. Is there a one step solution to this problem?
Needless to say, I showed him how to do it faster, which led to an interesting 3 hours at the lounge.
End of true story.
So today, let's understand how to find & highlight all the blank cells in the data.
Continue »
Podcast: Play in new window | Download
Subscribe: Apple Podcasts | Spotify | RSS
In the 15th session of Chandoo.org podcast, lets answer some of your burning Excel questions.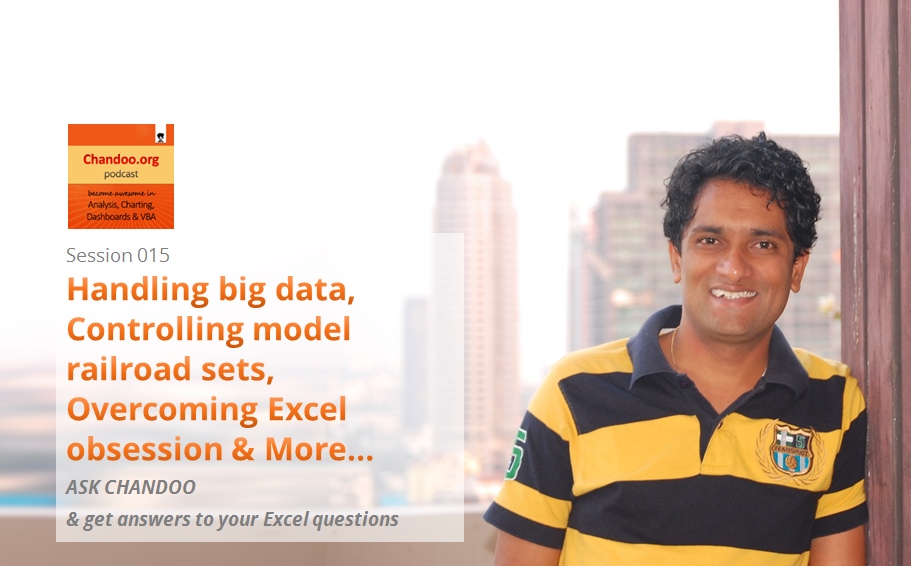 What is in this session?
Around last week, I invited you to ask me anything. More than 150 people responded to this call and sent in their questions. Since answering all the questions is not possible, I handpicked roughly 10 questions to answer in this episode of Chandoo.org podcast.
In this podcast, you will learn,
How to fill blank cells with data from above
How to work with Big data in Excel
How to combine data from multiple sources & analyze it in Excel
How I am managing my life after starting Chandoo.org
How to create and distribute stand-alone Excel products
How to control a model railroad set using Excel VBA (not fully answered)
& more…
Continue »
Blank cells are an invisible pain in the analysis. Dealing with them is frustrating, time consuming and often very complex. At chandoo.org, we are not big fans of blank cells. That is why we wrote:
Today, lets talk about one more scenario. Lets say you want to find out the first non-blank item in a list. How would you do it?
Continue »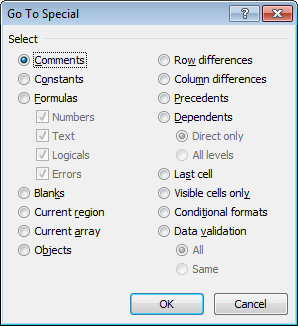 We briefly covered Excel's Go To Special function in the Managing Spreadsheet Risk series and in this post, we are going to explore Go to special feature in detail and learn how to use it.
What is Go To Special?
Go To Special is a tool within Microsoft Excel that enables you to quickly select cells of a specified type within your Excel worksheet. Once you get to grips with this function and what it can be used for you will wonder how you ever lived without it. Read on…,
Continue »
Here is a quick Excel tip to kick start your week.
Sometimes, we want to enter same data in to several cells. You can use CTRL+Enter to do this in a snap.
(1) Select all the cells where you want to enter the same data.
(2) Type the data
(3) Press CTRL+Enter
(4) Done!
See the animation aside to understand how this works.
Continue »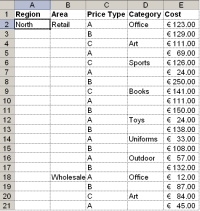 This post is authored by Martin, one of our readers.
Situation:
Sometimes I encounter data in my tables with blank cells where there is a repeated value from the cell directly above. See below:
This can be annoying when it comes to interpreting the data and when sorting columns.
Solution:
To know how I solve this, just read rest of the article.
Continue »
Most of you know that during day time I work as a business analyst. Today while preparing some test scenarios for our latest insurance application, I came across a weird problem. There are some steps in testing. For each test scenario, a combination of these steps is required. It is my responsibility to identify the […]
Continue »
Blank rows or Blank cells is a problem we all inherit one time or another. This is very common when you try to import data from somewhere else (like a text file or a CSV file). Today we will learn a very simple trick to delete blank rows from excel spreadsheets. Read this post to findout how to delete blank rows / cells from your excel data in a snap.
Continue »