In the 15th session of Chandoo.org podcast, lets answer some of your burning Excel questions.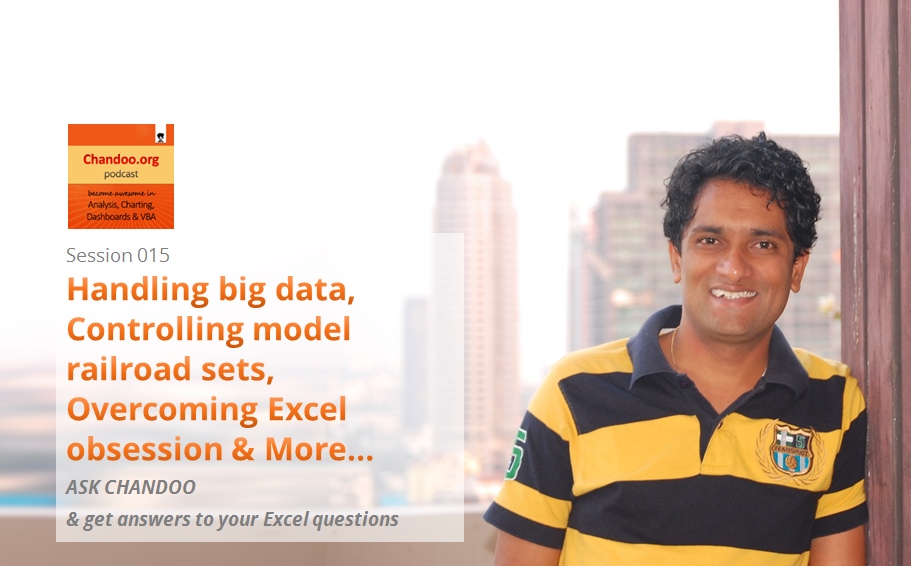 What is in this session?
Around last week, I invited you to ask me anything. More than 150 people responded to this call and sent in their questions. Since answering all the questions is not possible, I handpicked roughly 10 questions to answer in this episode of Chandoo.org podcast.
In this podcast, you will learn,
How to fill blank cells with data from above
How to work with Big data in Excel
How to combine data from multiple sources & analyze it in Excel
How I am managing my life after starting Chandoo.org
How to create and distribute stand-alone Excel products
How to control a model railroad set using Excel VBA (not fully answered)
How to control a pivot report with a form control or data validation drop-down
How to overcome Excel obsession
How to calculate average of 4 successive numbers
Go ahead and listen to the show
Podcast: Play in new window | Download
Subscribe: RSS
Links & Resources mentioned in this session:
Filling blank cells with values from above:
Here is an article that explains the process in detail.
Controlling pivot tables with form controls + VBA
Here is a detailed tutorial explaining the process.
Calculating average of 4 successive numbers
Here is an example file with solution for this problem.
Formulas & Tricks mentioned in this podcast:
Resources for working with big data / multiple data sets:
Transcript of this session:
Download this podcast transcript [PDF].
So who gets the free 25 Excel tips e-Book?
Every one. Thats right. Since I got many more questions than I could answer, the least I can do is make you awesome in a small way. So here we go.
Click here to download your copy of 25 tips eBook.
Read it, use the tips and become awesome.
Subscribe to Chandoo.org Podcast