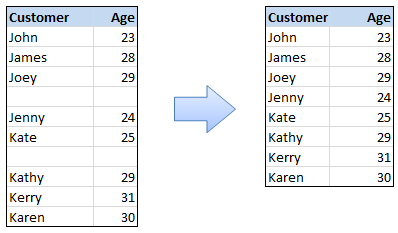 Blank rows or Blank cells is a problem we all inherit one time or another. This is very common when you try to import data from somewhere else (like a text file or a CSV file). Today we will learn a very simple trick to delete blank rows from excel spreadsheets.
Select your data
Press F5
This opens "Go to" dialog in Excel. Now hit on that "select" button.
From "select special" screen, select "Blanks" (shown aside)
Now, all the blank cells will be selected.
Just press CTRL and Minus sign (-)
Select "shift cells up" or "entire row" as needed.
That is all. Now you have successfully removed blank rows.
Bonus tip:
If you are looking for keyboard short-cut for this, here it is. Press them in the same order once you select the cells.
F5 ALT+s k Enter CTRL+ – u Enter
Remove Blank Rows in Excel – Video
Here is a short video showing this in action. Watch closely and get rid of those annoying blank cells.