All articles with 'advanced excel' Tag
I have an orders table and want to see only orders from a given list of products. We can use Excel's FILTER function to do this.
Continue »
Let's face it. You already know how to use SUMs, COUNTs and IFs and want to level up. But there are 100s of functions in Excel and you are not sure which ones to focus on.
In this article, let me reveal the top 10 important functions in Excel for data analysis work.
Continue »
Writing advanced formulas is a lot like LEGO. Use what you already have and combine them in creative ways. Let me demo with 5 examples.
Continue »
IF is the most used Excel function out there. Here are 10 advanced IF tricks to take your formulas to next-level ?
Continue »
Got some data in a calendar format and just wished you can get it in tabular format?
You can use Excel formulas or Power Query to do this. In this article, let's review formula based approach with two excellent choices.
Continue »
A stream graph or stream plot is an area chart that looks like a stream. In this post, let me show you how to create an interactive stream graph using Excel area charts. The original design for this graph is inspired from Cedric Scherer.
Continue »
This week, I am running a contest on YouTube. One of the criteria for picking winners is that they must comment on my video. So far, I got more than 200 comments. To make my job easier, I want to export the video comments to an Excel file. Turns out this is easily done once you have a Google developer API key. In this article, let me explain the process for extracting Youtube video comments to Excel table.
Continue »
Excel Pivot tables make data analysis and visualization easy. With the help of these advanced pivot table skills, you can create powerful data analytics and reports. New to Pivot Tables? If you are new to Pivot Tables, check out this excellent introduction to Pivot Tables page. × Dismiss alert Table of Contents #1 – One Slicer, Two […]
Continue »
Do you want to simulate multiple cash-flow scenarios and calculate the rate of return? Then this article is for you. In this page, learn how to,
Introduction to IRR & XIRR functions
Calculate rate of return from a set of cash-flows with XIRR
Simulating purchase or terminal value changes with data tables
Apply conditional formatting to visualize the outputs
Common issues and challenges faced when using XIRR
Continue »
Can we predict cricket match score in Excel? Using machine learning, ensemble modeling, multiple regression and Excel formulas we can. This tutorial explains how.
Continue »
We all know VLOOKUP (or INDEX+MATCH) as an indispensable tool in our Excel toolbox. But what if you want the lookups to be a little gentler, nicer and relaxed?
Let's say you want to lookup the amount $330.50 against a list of payments. There is no exact match, but if we look 50 cents in either direction, then we can find a match. Here is a demo of what I mean.
Unfortunately, you can't convince VLOOKUP to act nice.
Hey VLOOKUP, I know you are awesome and all, but can you cut me some slack here? 
VLOOKUP is tough, reliable and has a cold heart. Or is it?
In this post, let's learn how to do lenient lookups.
Continue »
Ever wanted to calculate distance using Excel  – between two locations (physical addresses)? If we know the addresses, we can go to either Google Maps or Bing Maps and type them out to find the distance and travel time. But what if you are building some model (or calculator) and want to find out the […]
Continue »
Game for some charting awesomeness?
Off late, I have been doing a lot of data analysis and visualization on performance ratings, salary hike, gender pay equality etc. Today let me share you an awesome way to visualize massive amounts of data.
Scenario: Your organization of 3,686 people recently went thru annual performance ratings & review process. At the end of it, everyone was offered some salary increase (from $0 to $24,000 per year). You have 7 business groups. How do you tell the story of all these salary hikes in one chart?
How about the one above?
Ready to know how to create this in Excel? Read on.
Continue »
When faced with tough problems I react in one of three ways
Come up with ingenious solutions
See if a simpler cheat solution is possible
Sit back and ignore
For most problems, I choose 3rd reaction. Occasionally, I rely on 2nd option and very rarely the first one.
When faced with a tricky time sheet summary problem (as outlined above), after initial lethargy I wanted to solve it.
Continue »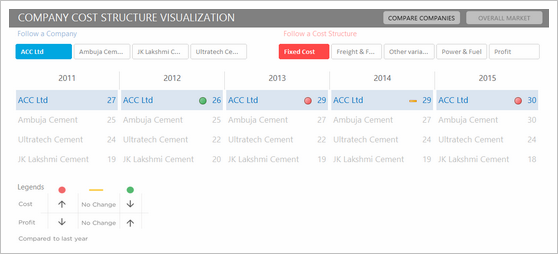 In this amazing guest post, the winner of our 2016 dashboard contest – Chandeep – Explains how he constructed the jaw dropping beauty (shown above) using Excel, creativity, love and sweat. Grab a full cup of coffee (or whatever liquid fancies you) and read on. Take lots of notes and play with the ideas in Excel while reading to maximize your learning.
Thanks Chandeep.
Continue »