Here is a New year gift to all our readers – free 2013 Excel Calendar Template.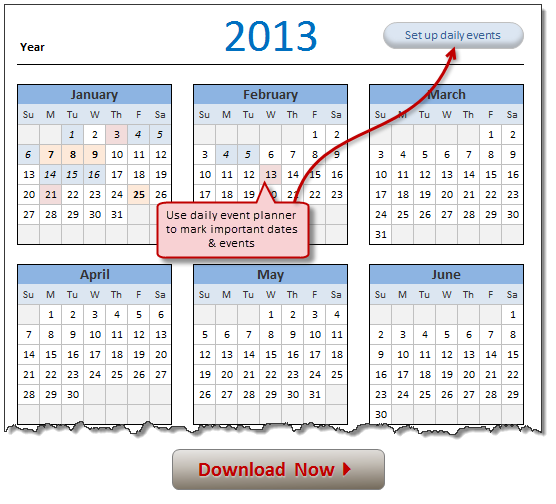 This calender has,
One page full calendar with notes, in 4 different color schemes
Daily event planner & tracker
1 Mini calendar
Monthly calendar (prints to 12 pages)
Works for any year, just change year in Full tab.
See more snapshots here: 2013 Calendar template snapshot 1, snapshot 2
Download 2013 Calender – Excel File
Click below links to download the calendar you want:
How does this Calendar work?
This is the same file as 2012 calendar with the year changed. The new feature is event planner. So I will explain that alone.
First take a look at either 2011 calendar or 2012 calendar pages to see how the basic calendar is constructed.
In the daily events tab, we have full calendar for 2013 (or any other specified year) listed one day per row (so maximum rows are 366).
Each day can be marked as one of the 4 types of events – Important , Anniversary, Holiday or Vacation.
When you mark a day with either of these 4 events, in an extra column, a formula determines which event it is and places a number (between 1 to 5 – 1 for Important, 2 for Anniversary … 5 for no event)
Back in the full calendar, we use conditional formatting to color a day based on what number is associated with it in daily planner.

COUNTIF formulas are used to count how many days are marked as Important, Anniversary or Holiday and summarized in the full calendar view.
Go ahead and enjoy the download. The file is unlocked. So poke around the formulas and named ranges. Learn some Excel.
More Calendar Downloads:
Download these additional calendar templates and start your new year in awesome fashion!
2012 Calendar, 2011 Calendar, New Year Resolution Tracker, Picture Calendar Template and Todo list template
Techniques used: INDEX | OFFSET| INDIRECT | Array Formulas |  Using Date & Time in Excel | Conditional Formatting