Hello awesome readers of Chandoo.org,
We wish you a merry Christmas & very happy New Year 2013. May your holidays be filled with joy and warmth. And your new year with lots of hope, fun, strength and awesomeness.
I also want to tell you how thankful & fortunate I feel to have your support in this year. Your desire to learn Excel & become awesome at your work motivates me everyday to learn & share. 2012 is a memorable year because of you. Thank you.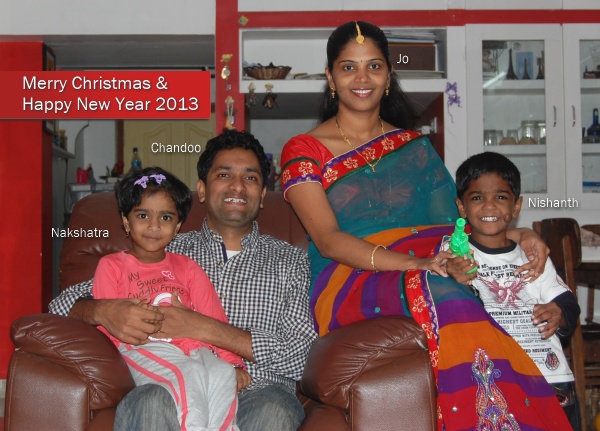 About this year's holiday card
Now that our kids are 3 years old, we have dozens of good family photos to choose for the holiday card. I picked this photo from Diwali this year (November 14). Of course Nishanth would not let go of that toy gun …
Holiday Schedule of Chandoo.org
As many of you are going to be away for holidays or annual vacation, we will be having very little activity on Chandoo.org. Schedule for next 2 weeks is,
22, 23, 24 & 25 December: No posts

26 December: Free Excel calendar template for year 2013

27 December: No post

28 December: People and websites that helped Chandoo.org in 2012 [ thank you message ]
31 December: Best of Chandoo.org, 2012

1 January: No post

2 January: How can we make you awesome in 2013 – Survey

3 January: No post

4 January: Chandoo.org plans for 2013
Our Forum:
Chandoo.org Forums will remain online and probably active during this holiday season. Although most regulars & ninjas would be away, you can post your Excel questions & hopefully someone will help you out.
Our Online Store:
Our online store will remain available and you can continue to purchase your favorite Excel training programs or templates. Please note that there will be 1 day delay in getting your login details for purchases made on Christmas day or New Year Day.
Online Classes, Student Doubts & Questions:
All our online classrooms will be open in this holiday season. You can enjoy the video lessons & ask questions. Please expect 2 day delay for questions posted between 25 December to 1 January.
Emails:
If you send me an email in next 2 weeks, please expect some delay. We are expecting quite a few relatives & guests during this holidays and I am not hoping to spend too much time online. If you do not hear from me, send a reminder after 7th of Jan.
Once again…
On behalf of Chandoo.org family, staff & volunteers, I wish you a merry Christmas & happy New Year 2013. I hope & pray that your life is filled with happiness, wealth & health in this holidays & going forward.
Thank you.