Author Archive
Charts are great way to tell story about what is going on in your business. But they also feel a bit too impersonal and meh. How about adding your personality to them? I don't mean making them tall, dark and pretty. I mean using hand-drawing style to make them pop out. Something like above example of hand-drawn chart.
The best thing is, You don't need to actually draw these charts by hand. We can use a powerful charting trick to get these charts automatically generated (and linked) to your data. Interested? Read on to learn how to create hand-drawn charts in Excel.
Continue »
Welcome to Power Mondays. Every Monday, learn all about Power BI, Power Query & Power Pivot in full length examples, videos or tips. In this installment, learn how to get top 5 list with a twist.
Let's say you are analyzing sales data and you want to know who are your top 5 sales persons?
Of course, this is simple, you just create a pivot to see total sales by person and then sort the pivot. First five rows have the answer you need. You can even apply a value filter > top 5 to show only their data.
Continue »
Do you want to learn Advanced Excel, data analysis, creative charting, dashboard reporting and be productive in Excel? Then you are going to love my Excel School v2.0.
This is the golden age of data. Any rewarding job or entrepreneurship requires good data literacy. We are all expected to understand the relevance of data, how to manage it, how to analyze it, visualize it and tell elegant stories.
This is where Excel School comes in.
Continue »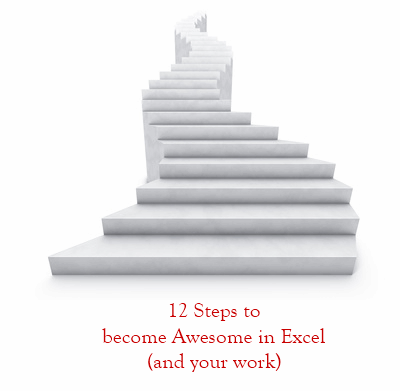 Obviously, everywhere you look this week, you find advice on how to do better this year.
Well, you don't have to wait for a new year to become awesome at your work, any day is new year for the rest of your life.
So, today I want to share 12 steps to learn Excel and becoming awesome. But first I have a secret to confess…,
I think becoming awesome in Excel useless.
What we really want is, to become awesome in our work. Since we spend a lot of time using Excel (and other office software), knowing how to use these better can have a huge impact on how we do our work.
In that spirit, lets look at 12 steps to learn Excel so you become awesome in your work.
Continue »
Welcome to Power Mondays. Every Monday, learn all about Power BI, Power Query & Power Pivot in full length examples, videos or tips. In the first installment, let's take a look at something we all can related to – Money. 
We all know that Power BI is good for creating awesome visual experiences. Today let me share another fun way to use Power BI – to build a calculator. Learn how to create nest egg calculator in this Power BI parameter example tutorial.
Continue »
Hi all,
Time for a personal + blog related update. Bring a cup of your favorite brew, sit back, relax and read on. Read about our 2 years in New Zealand, Excel School v2.0 and revised blogging schedule. Catch glimpses of our live in NZ too.
Continue »
Ever wondered how to get percentage of another value in Excel pivot tables, like this: In this tip, learn how to create such calculations using Excel pivot tables. Note: this tip is not compatible with older versions of Excel. If you are using Excel 2007 / 2010 / 2013, then please install free Power Pivot […]
Continue »
I recently finished a long consulting gig with one of the government ministries in New Zealand. Guess what I was doing? HR Analytics and Reporting. In this post, I want to share my top 5 Excel tips for HR people, based on what I learned in the last 18 months.
Specifically, we will cover:
Gathering and structuring Employee data in Excel

How to use Power Query to collect data
Polish / clean data in Power Query
Bring cleaner data to Excel as refreshable table

Answering questions about employees

Using Excel formulas such as COUNTIFS, SUMIFS, AVERAGEIFS
Pivot tables for data analysis
Understanding the results quickly with conditional formatting

Understanding pay gap

Calculating gender pay gap
Visualize pay gap

Creating salary distribution charts

Working with histogram charts in Excel 2016 / Office 365
Making interactive charts

Generating letters thru mail merge

Calculating employee bonus based on bonus mapping logic
Creating 100s of letters with a single click using Mail Merge + Word
Sounds interesting? Read on for details.
Continue »
Ever wanted to calculate distance using Excel  – between two locations (physical addresses)? If we know the addresses, we can go to either Google Maps or Bing Maps and type them out to find the distance and travel time. But what if you are building some model (or calculator) and want to find out the […]
Continue »
Would you like to spend next 5 minutes learning how to create an mutual fund tracker excel sheet?
Make a live, updatable mutual fund portfolio tracker for Indian markets to keep track of your investments using this example.
Continue »
We love spreadsheets. And of course, once every four years, we also get mad about soccer. So why not merge both of them in to one awesome, frivolous and fun thing: Introducing….
Excel soccer game
The best part is you don't have to run up to play this. Set your aim and let RANDBETWEEN() decide your fate.
Continue »
The first step of getting awesome in Excel is to understand that you can ask Excel do things for you. This is done by speaking a special language called as "Excel Formulas". When you write a formula or function, you are asking Excel to figure out something from the values you have. Say you want to add up a bunch of values in a range A1:A10, you can ask Excel to do this for you by writing =SUM(A1:A10) and bingo, you get the result immediately. The best part is, if your numbers change, the answer changes too.
If you are a beginner, the world of Excel formulas can feel overwhelming. Why not? There are hundreds of different formulas in Excel.  So which formulas should you learn?
This guide gives you the answer. Here are 100+ most common Excel formula examples for every occasion. Each box describes a problem statement, an example, result, some notes and link to learn more. Use this guide to learn formulas quickly.
Continue »
Ever wondered how to undo in Power Query. If you try to press CTRL+Z or look for undo icon in Power Query (either in Excel or Power BI), you will not find it. The reason is simple. There is no undo in Power Query. So how to undo ?
Continue »
Excel date time features are very handy and knowing how to use Excel date values can help you save a ton of time in your day to day spreadsheet chores. Let us prepare for your date with the sheet using these 10 handy tips.
Before jumping on to the tips, it helps to know how excel represents the date and time.
Microsoft Excel stores dates as sequential numbers … January 1, 1900 is serial number 1, and 20 June, 2018 is serial number 43271 because it is 43,271 days after January 1, 1900. Excel stores times as decimal fractions because time is considered a portion of a day. [Excel Help Text on Date / Time]
So you see, Date and Time are in fact numbers in Excel. Just enter a date in your excel sheet and format it as number to see its equivalent numeric value. If a date is 20-June-2018 and excel represents it as 43271.
Continue »
Time for some soccer fun in spreadsheets. Given a team points table like above,
How would you figure out in Excel, which teams qualify for next stage. The rules for this exercise are,
Pick the top two teams by points
If there is a tie, use Goal Difference (GD) to break ties (more GD is good)
If there is a tie, use Goals For (GF) to break ties
Continue »