Archive for March, 2015
Learn two techniques to conditionally format the background of a chart based on some external value.
Continue »

A lot of analysts swear strong allegiance to keyboard shortcuts. But when it comes to formatting a spreadsheet, these shortcuts go for a toss as formatting is a mouse-heavy activity.
But we can use a few simple & effective shortcuts to zip through various day to day formatting tasks. Let me share my favorite formatting shortcuts.
Continue »
Yay, bring out the birthday hats, candles, cake & confetti. Chandoo.org podcast is 1 year old.
In this one year, we had 31 sessions, 4 guest appearances, 390,000 downloads & lots of 5 star reviews. Thank you so much for making it a grand success so far.
To celebrate the occasion, I want to reward 3 lucky listeners of our podcast.
How to participate in this contest?
Simple. Figure out what your favorite Excel tip is.
Open your smart phone's voice recorder app

on iPhone use the Voice Memos app
on Andriod use sVoice or voice recorder widgets
If you cant find these apps, just Google record audio <your phone name>

Record the tip (less than 3 mins duration)
Please say your name at the end of recording.
Send the audio file by email to hello@chandoo.org
Do so before

end of day 16 March 2015 (Monday)
Once I collect all the tips, I will feature some of them in next episode of Chandoo.org podcast.
Continue »
Hello folks,
Time for another homework problem. Assuming you have 2 ranges of values like below, how do you check if both of them have same set of values?
Continue »
Today is Holi, the festival of colors in India. It is a fun festival where people smear each other with colors, water balloons, tomatoes and sometimes rotten eggs. This year we wanted to play with only water guns, but kids vetoed that idea vehemently. So we ended up driving to my sister-in-law's place to play with colors (there were no rotten eggs or tomatoes, thankfully).
Let me smear a few colors on you
I would love to splash a jug full of color water on you and say Happy Holi. But the internets have not advanced thus far. So I am going to give you the next best option.
An Excel workbook to play holi
Continue »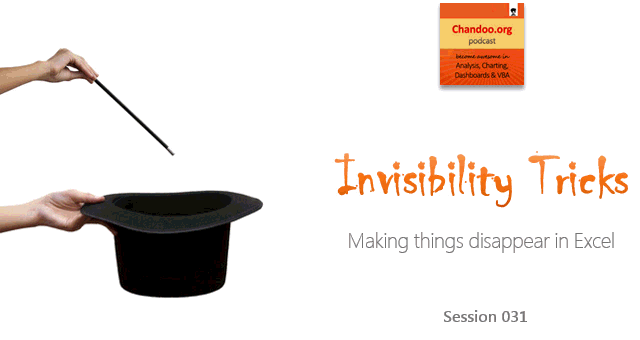 Podcast: Play in new window | Download
Subscribe: Apple Podcasts | Spotify | RSS
In the 31st session of Chandoo.org podcast, let's disappear.
What is in this session?
Spreadsheets are complex things. They have outputs, calculation tabs, inputs, VBA code, from controls, charts, pivot tables and occasional picture of hello kitty. But when it comes to making a workbook production ready, you may want to hide away few things so it looks tidy.
That is our topic for this podcast session.
In this podcast, you will learn
Quick announcements first anniversary of our podcast etc.
Hiding cells, rows, columns & sheets
Hiding chart data points
On/off effect with form controls, conditional formatting
Making objects, charts, pictures disappear
Disabling grid-lines, formula bar & headings
Hiding things in print
Continue »