All articles with 'web queries' Tag
This week, I am running a contest on YouTube. One of the criteria for picking winners is that they must comment on my video. So far, I got more than 200 comments. To make my job easier, I want to export the video comments to an Excel file. Turns out this is easily done once you have a Google developer API key. In this article, let me explain the process for extracting Youtube video comments to Excel table.
Continue »
Would you like to spend next 5 minutes learning how to create an mutual fund tracker excel sheet?
Make a live, updatable mutual fund portfolio tracker for Indian markets to keep track of your investments using this example.
Continue »
Commonwealth games 2018 have ended in the weekend. Let's take a look at the games data thru Power BI to understand how various countries performed.
Here is my viz online or you can see a snapshot above.
Looks good, isn't it? Well, read on to know how it is put together.
Continue »
The 2018 edition of Commonwealth games are on for a week now. Both of my homes – India and New Zealand have been doing so well. Naturally, I wanted to gather games data and make something fun and creative from it. Here is my attempt to amuse you on this Friday.
Looks interesting? Want to know how to make something like this on your own? Then read on…
Continue »
Let's take a whirlwind trip to coolest little capital – Wellington. It is a windy place, so hold on to your hats and spreadsheets.
Almost everyone who spends more than 2 days in Wellington would agree that it is a windy place. But how windy is Welly? In this two part series, we will use Power Query, Excel charts and coffee to answer that question.
But, first let's start with a joke.
What happens when you throw a boomerang in Frank Kitts Park?
You will have to buy another one, coz you are not getting that one back.
Continue »
Power Query offers many ways to get data to Excel. One of them is to Web Data import feature. Let's understand how this works by importing world stock exchange closing data from Google Finance website.
[Related: Introduction to Power Query]
Continue »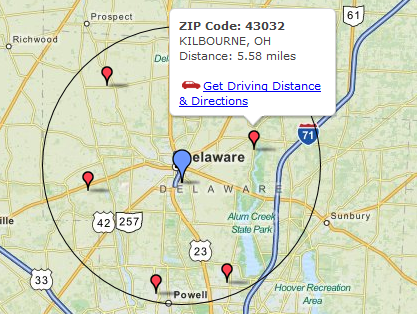 Recently, I had a peculiar problem. I have a list of zip codes and I wanted to find out nearest zip codes for each of them.
Now, If I wanted to find out near by zip codes for one area, I could go and search in Google. But, how to do it for dozens of them?
Today, lets understand how you can use Excel (that's right) to do this automatically. We will be using Excel 2013 for this.
Continue »
Wow, what a weekend it has been. Indian cricket team has won Cricket world cup 2011. It has been a highly entertaining tournament and the finals were just incredible.
Congratulations to Team India for winning Cricket World-cup 2011.
I am tempted to make a dashboard of sorts to show the journey of Team India in this world cup. But I could not get much time to work on anything. I will post something this week to celebrate the victory.
Read the rest of this post to get 5 recommended Excel resources to learn new things.
Continue »

Have you ever wanted to fetch live stock quotes from excel? In this post we will learn about how to get stock quotes for specified symbols using macros. We use Yahoo! Finance API to fetch the stock quotes and other information related to a company using excel macros. Along the way, we will also learn various interesting things about Excel VBA. Think of this post as a crash course in VBA.
This is a guest post by Daniel Ferry.
Continue »
Excel is very good for keeping track of your investments. Due to its grid nature, you can easily create a table of all the mutual fund holdings and monitor the latest NAVs (Net Asset Values) to see how your investments are doing. A while back we have posted a file on tracking mutual funds using excel. Today we are going to release an upgrade for that file.
Read the rest of this post to understand how this template works and download the free template.
Continue »
Learn how you can write your own twitter client using Excel. All it takes is excel, internet connection and 5 minutes of spare time.
Continue »
Remember the photographic fridays? Some of you must be thinking whatever happened those posts? Well, my intention for writing those posts has been to get your feedback so that few of us can become better photographers. But flickr does a hell of better job for this than my little blog can. So I have decided […]
Continue »
RSS feeds are everywhere. So much that you cannot avoid them in your data processing, analytics or day to day spreadsheet needs. If you can get the RSS feeds to excel sheet you can do pretty interesting things with it, like: Prepare a sheet to watch deals on Amazon, Craigslist, Deals2buy and other favorite sites […]
Continue »