All articles with 'relationship' Tag
Do you manage projects? You are going to LOVE ? this one. In this in-depth tutorial, learn how to create a fully interactive & dynamic Excel Project Management dashboard. Sample files & video instructions are also provided.
Continue »
Let's start the new year with a bang.
Excel Tables were introduced more than a decade ago, but a lot of people don't know them or under utilize them. So start this year by becoming a very table genius.
What is Excel Table?
Excel tables are a simple and elegant way to structure and store your data. Let's say you have staff details like below. Instead of calling it like A1:E72, you can convert this data in to a table and call it, you guessed it right, covfefe (or more coherent option like – staff).
Continue »
Time for a quick but very useful tip. Ever wanted to create all combinations from two (or more) lists? a la Cartesian product of both lists.
Here is a ridiculously simple way to do it.
Continue »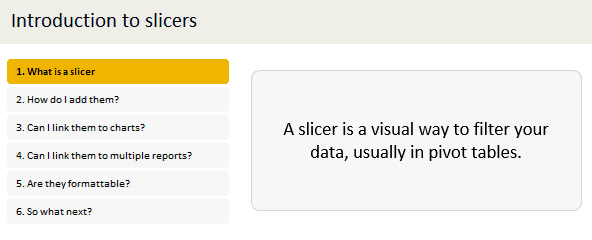 Slicers are one of my favorite feature in Excel. And here is a quick demo to show why they are my favorite.
Slicers – what are they?
Slicers are visual filters. Using a slicer, you can filter your data (or pivot table, pivot chart) by clicking on the type of data you want.
For example, let's say you are looking at sales by customer profession in a pivot report. And you want to see how the sales are for a particular region. There are 2 options for you do drill down to an individual region level.
Add region as report filter and filter for the region you want.
Add a slicer on region and click on the region you want.
With a report filter (or any other filter), you will have to click several times to pick one store. With slicers, it is a matter of simple click.
Read more to learn all about slicers
Continue »
Have you ever been in a VLOOKUP hell?
Its what happens when you have to write a lot of vlookup formulas before you can start analyzing your data. Every day, millions of analysts and managers enter VLOOKUP hell and suffer. They connect table 1 with table 2 so that all the data needed for making that pivot report is on one place. If you are one of those, then you are going to love Excel 2013's data model & relationships feature.
Continue »
The combination sounds as inseparable as ctrl+c and ctrl+v. But when it comes to making a career choice there is a fair bit of confusion as to what an MBA will do in an IT company, especially in the first few years. Marketing companies have it easy, in the first 18 months, you would be […]
Continue »
I opened my eyes, everything around me is blurry and cold. I hurriedly looked at the watch, it showed 10:30, but it meant little for I am in a different timezone. While I was trying to clear my eyes the guy who is sleeping infront of me said "hi", even before I could open my […]
Continue »
Rewind an year or two and you would have known me as a staunch supporter of all roles that are marketing and vying to become one sometime. Well, I believe that i am marketer even now. Just that i am selling services, technology and consulting instead of a pack of beedis, printers or pills. But […]
Continue »
Banks and relationships are as old a pair as slice bread and butter knife. I can imagine my grand father getting shivers allover when he deposited bulk of his first salary in the bank wondering all he was left with was a stupid passbook with illegible numbers on it. The point is days have changed! […]
Continue »
You pay almost Rs. 200 for a service X. You drive almost 10 km to get the service. But to your utter dismay, you have little or no say in where you want your service to be delivered, to decide how long your want the break in between to be, you couldn't sit with your […]
Continue »
Published on Mar 5, 2005
in
Random
Welcome to PHD Blogmela. Just now completed reading all the posts nominated and boy!, this is going to be a real Indian blogmela. Majority of the nominations centered around India as in they spoke about India rather than about some Indian. Ok, I am not wasting anymore time. Lets jump in to the PHD Blogmela. […]
Continue »
Published on Dec 6, 2004
in
Random
Well, upon looking at the three words Marcovian Queues, Arranged Marriage and Forefathers any sane person (Aah!, that excluded all the managers in the world :D) would say that they are totally unconnected. Today, i am here to prove that indeed they have a strong relationship among themselves. So much so that, the relationship is […]
Continue »
Published on Jul 4, 2004
in
Random
Saturday was not that hectic comparared to what we had on the other 2 days. in the morning i had the class from 9-11 and we discussed the case in groups. Eventhough we dint had a chance to present the case, it was a nice experience to participate in the discussion. Later we had some […]
Continue »