Where will the multiplex go now?
You pay almost Rs. 200 for a service X. You drive almost 10 km to get the service. But to your utter dismay, you have little or no say in where you want your service to be delivered, to decide how long your want the break in between to be, you couldn't sit with your family members/friends together, and the service provider has rigid timings in the day and age when even the post office is operating at convenient hours. To top it all, you need to pay up front in cash only.
Can you guess what X is?
Well, it is "Movie in theatres"
A couple of days ago I've been to Velocity multiplex in Indore to watch 'Bluff master'. The whole experience set me thinking: "is there a better way of providing movie entertainment?"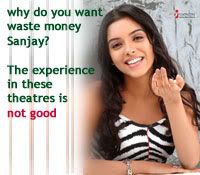 A brief history on how movie theatres differentiated themselves:
As far back as I could remember, 70 mm screens were the major differentiators, at least till 1990s. Slowly quality of sound and air became more important. Thus came Dolby Stereo and Air-conditioned theatres. Of course some players were able to sell the experience based on location, types of movies played and ticket rates. Slowly movie theatres migrated to multiplexes where screens are married with malls, hotels, casinos etc. Then there is technology in the form of IMAX, DTS, and 3D pulling people towards the talkies.
But there is a shift in the attitudes of consumers. Suddenly we have a whole lot of entertainment from sources like TV, Internet, Pod casts, Radio etc. Going to theatre is no longer compulsory to watch a movie, but it still is one of the major sources. But more importantly theatres or multiplexes have become sources of family or wholesome entertainment. This pushed everyone to open the multiplex and offer 2-3 screens combined with a couple of restaurants and game zones.
But as a consumer we still crave for more and these multiplexes are far from reality sometimes.
How can premium customer experience be provided in multiplexes? (Of course for more charges or better utilization of whatever is paid)
The process of watching a movie:
At each of the above steps customer experience can be enriched with little investments.
Book Tickets or Inquiry:
The whole idea of booking tickets online or over the phone is sometimes ridiculous. There is still something called collecting ticket manually. It is surprising that no one has gone far and allowed the viewer to print his ticket. And even then the booking part never lets you pick your own seat. Why even state transport busses are allowing you to choose where to sit. It shouldn't be too tough to let the customer choose their location in the theatre for a little premium.
The actual purchasing at the box office is also old and expects you to carry cash. Why not allow plastic there?
Just like local train passes and bank cheque books may be multiplex chains can start ticket books where you get to write your own ticket and watch the movie provided you reach the theatre in some stipulated time.
Commute:
Most of the time these multiplexes are located far from residential areas. How about offering pick-up, drop services for someone who is ready to pay, especially very old people, children and large families find it tough to travel to the talkie.
Parking:
Anyone who has ever driven to a theatre will know how painful it is to get his or her vehicle safely parked. Sometimes the multiplex may not even have enough space to park all the vehicles; there should be a better way of doing this.
Before entering the theatre:
Most of the time you find families movie watching follows this pattern. Shop->Eat out -> watch movie. Most of the time they carry lot of items with them and put them in lap, near foot while watching the movie. Why not the multiplexes provide cloakroom facilities.
Worse still, many families come to the movies along with their kids who hardly understand the film. Why not there is a crèche.
Watching the movie:
If the multiplex has to dub itself as a family entertainment avenue then it should definitely think about the seating arrangement. Now how many of us actually concentrate the whole 3 hours? Very few. Why not the theatre be something like a hotel with round tables, I know it will take up less number of people, but providing premium services means charging premiums.
How about sparing a thought for people with back problems, wider posteriors, children, high needs for leg support and foot room? Why not design chairs with swivel, foot support and better back support. And why not provide a mechanism so that children can also enjoy the movie without breaking their necks.
May be there can be a buzzer service on the seats and an attendant on call a la first class travel.
Intermission:
Even the intermission and the allied entertainment in that time are seriously dated. How about increasing the break time so that we can comfortably pee, eat and stretch.
Lastly, the whole customer relationship:
To put it in a word, is absent. Lets say the multiplex know who are their regular customers, imagine what all they can do with this information:
Send promotional items like movie trailers, wall papers, tickets, merchandise to the loyal and regular customers. May be there can be a customer relationship plasticard and every time he/she swipes in to watch the movie the customer can accumulate some points and redeem them in other places.
Regulars can be given to upgrades to higher classes and complimentary popcorn and colas. After all if upgrades doesn't make any difference incase the higher classes have empty seats.
In the end: if the multiplexes can enhance customer experience at every point they will definitely say,
Hello Awesome...
My name is Chandoo. Thanks for dropping by. My mission is to make you awesome in Excel & your work. I live in Wellington, New Zealand. When I am not F9ing my formulas, I cycle, cook or play lego with my kids. Know more about me.
I hope you enjoyed this article. Visit Excel for Beginner or Advanced Excel pages to learn more or join my online video class to master Excel.
Thank you and see you around.
Related articles:
Written by Chandoo
Tags: customer, experience, Friends, game, idea, Indore, information, investment, movie, office, process, quality, relationship, service, story, technology, train, travel, tv, web
Home: Chandoo.org Main Page
? Doubt: Ask an Excel Question