All articles with 'quick access toolbar' Tag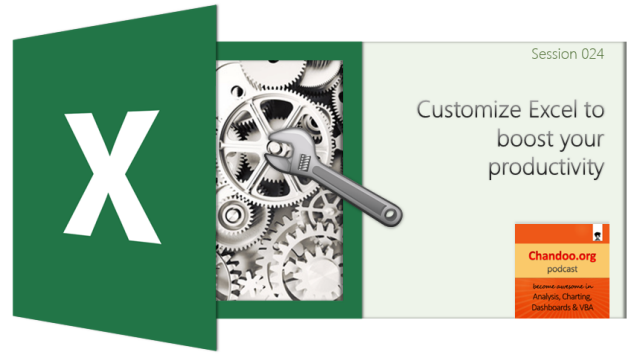 Podcast: Play in new window | Download
Subscribe: Apple Podcasts | Spotify | RSS
In the 24th session of Chandoo.org podcast, let's customize Excel so we become productive.
What is in this session?
Each of us use Excel in our own way. And yet, we all end up using the same Excel. That's not fair. Shouldn't the Excel of an accountant be different from Excel of a teacher?
In this podcast, lets understand some of the powerful & useful ways to customize Excel so that we can do our work better. Tune in only if you are serious about productivity.
You can get Excel Customization Handbook free. Listen to the podcast for instructions.
In this podcast, you will learn,
Announcements
Why customize Excel?
Customization options:

Excel Options
Quick Access Toolbar
Excel Ribbon
File menu / back stage view
Themes, styles & templates
Personal Macros

Closing thoughts & Bonus give away instructions
Continue »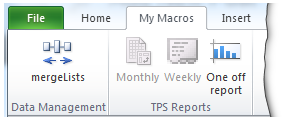 Do you know that in Excel 2010 you can create your own Ribbon tabs and add anything to them, including your own macros? Today, we are going to take a look at this useful feature and learn how to add your own macros as buttons to Excel Ribbon. Steps to Add your own macros to […]
Continue »
Have you ever jumped back to normal view from print preview and noticed the annoying page break lines? They look distracting. They are like a naughty kid shouting for attention. look at me!!! How do we get rid of those lines after completing our business with print preview?!? Very simple. We just copy everything, press […]
Continue »
Ok, so you have written a shiny new macro to solve all the problems. The macro, solveWorldProblemsAndMakeSomeCoffee() sits nicely in your personalmacros.xlam file somewhere in C drive. You have also installed the macro as an add-in so that it is always available. But wait!!! How do you run your sWPAMSC everyday in the morning? (ok, […]
Continue »
Starting Excel 2010, you can finally customize the ribbon UI and define your own tabs or groups. This can be a huge productivity boost for people using MS Office applications. In this post, learn how to customize excel ribbon to improve your productivity.
Continue »