All articles with 'pivot tables' Tag
Ever wondered how to get percentage of another value in Excel pivot tables, like this: In this tip, learn how to create such calculations using Excel pivot tables. Note: this tip is not compatible with older versions of Excel. If you are using Excel 2007 / 2010 / 2013, then please install free Power Pivot […]
Continue »
I recently finished a long consulting gig with one of the government ministries in New Zealand. Guess what I was doing? HR Analytics and Reporting. In this post, I want to share my top 5 Excel tips for HR people, based on what I learned in the last 18 months.
Specifically, we will cover:
Gathering and structuring Employee data in Excel

How to use Power Query to collect data
Polish / clean data in Power Query
Bring cleaner data to Excel as refreshable table

Answering questions about employees

Using Excel formulas such as COUNTIFS, SUMIFS, AVERAGEIFS
Pivot tables for data analysis
Understanding the results quickly with conditional formatting

Understanding pay gap

Calculating gender pay gap
Visualize pay gap

Creating salary distribution charts

Working with histogram charts in Excel 2016 / Office 365
Making interactive charts

Generating letters thru mail merge

Calculating employee bonus based on bonus mapping logic
Creating 100s of letters with a single click using Mail Merge + Word
Sounds interesting? Read on for details.
Continue »
Excel table is a series of rows and columns with related data that is managed independently. Excel tables, (known as lists in excel 2003) is a very powerful and supercool feature that you must learn if your work involves handling tables of data.
What is an excel table?
Table is your way of telling excel, "look, all this data from A1 to E25 is related. The row 1 has table headers. Right now we just have 24 rows of data. But I can add more later!"
Continue »
Ever wanted to count distinct values in your pivot tables? Something like above:
Let's say you have store sales data. Several products are sold on each day. When you make a pivot table from this data and add product count, Excel counts all products. But we want to see just the distinct count (ie if there is a duplicate product in a day, we want to count it just once).
Here is a simple trick to add distinct count to Excel pivot tables easily.
Continue »
Analyst's life is busy. We have to gather data, clean it up, analyze it, dig the stories buried in it, present them, convince our bosses about the truth, gather more evidence, run tests, simulations or scenarios, share more insights, grab a cup of coffee and start all over again with a different problem.
So today let me share with you 35 shortcuts, productivity hacks and tricks to help you be even more awesome.
Continue »
We all know that Pivot Tables are best thing since avocado on toast. But they can't slice text values and spread them in a table with Pivots. So how to take a large blob of text and turn it in to something meaningful like above?
Simple, we use Power Query.
Continue »
Ever wanted to make a cool, snazzy interactive chart in Excel? Something like this:
In this tutorial, learn all about making your very first interactive chart. We use both formulas and pivot tables to build two versions of an awesome interactive chart in Excel.
Continue »
Pivot tables are fun, easy and super useful. Except, they can be ugly when it comes to presentation. Here is a quick way to make a pivot look more like a report.
Just type over the headers / total fields to make them user friendly.
See this quick demo to understand what I mean:
So simple and effective.
Continue »
Yesterday, my mate from across the ditch, Hui posted about conditional rank formula (RANKIFS) using awesome SUMPRODUCT
Of course, not everyone can whip up a sumproduct formula like that. On a scale of One to Hui of Excel awesomeness, you would need to be at least an H to write sumproduct or countifs formulas shown in that post. So does it mean, you can't conditional rank if you don't know your X from L?
Don't worry. We got you covered. You can still get your conditional ranks, without inception level array formulas. Simple, use pivot tables instead.
Continue »
Time for some statistics and charting fun. Let's learn all about histograms and Pareto charts in Excel 2016. You will learn
What, why and when?
How to set up and customize histograms
How to use Pareto charts?
How to create dynamic histograms?
Creating histograms in old Excel (2013 or prior versions)
Sounds interesting? Let's get started then.
Continue »
Recently, I had to make a bunch of panel charts. After wrangling with Excel (and a tiny bit of VBA) to create them, I wondered if we are suffering needlessly by being too loyal to Excel. I switched to R and could create these panel charts in almost no time (well, first I had to learn how to pivot the data using dplyr). Today, let me share the experience.
Continue »
Over on Twitter, I came across this beautiful chart, aptly titled – Joyplot. It is the kind of chart that makes you all curious and awed. So I did what any Excel nerd would do. Recreated it in Excel of course. This post takes you thru the process.
Take a look at final outcome above. Read on to learn more.
Continue »
Late. Jayaram, my uncle is also a teacher. When I was a kid, I used to spend a lot of time with him, learning all sorts of things. He taught me chess, maths and so many life lessons. I remember one such lesson very vividly.  One day, he asked me to do something. I did it in a very long way. After seeing me struggle for several minutes, he chipped in and showed me how to do it easily. He then said, "when someone asks you where your nose is, you don't twist arm around your head. You just point to your nose directly."
The idea is that when you have a direct, simple way to do something, you should use it.
Nose and pivot tables… how are they connected?
We are coming to the point. Read on for full case study and solution.
Continue »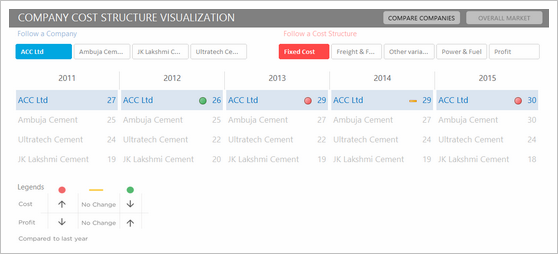 In this amazing guest post, the winner of our 2016 dashboard contest – Chandeep – Explains how he constructed the jaw dropping beauty (shown above) using Excel, creativity, love and sweat. Grab a full cup of coffee (or whatever liquid fancies you) and read on. Take lots of notes and play with the ideas in Excel while reading to maximize your learning.
Thanks Chandeep.
Continue »
Pivot tables are lovely. But sometimes they are hard to work with. Let's say you are analyzing some HR data and want to see number of weeks worked in each hour classification.
And you want this.
Except, there is a teeny tiny problem.
The sort order on the classification is all messed up.
Here is a quick fix to get custom sort order on your pivot table row labels.
Continue »