All articles with '# NA error' Tag
Podcast: Play in new window | Download
Subscribe: Apple Podcasts | Spotify | RSS
In the 48th session of Chandoo.org podcast, let's make some animated charts!!!
What is in this session?
In this podcast,
Announcements
Why animate your charts?
Non-VBA methods to animate charts

Excel 2013's built-in animation effects
Iterative formula approach

VBA based animation

Cartoon film analogy
Understanding the VBA part

Example animated chart – Sales of a new product
Resources and downloads for you
Continue »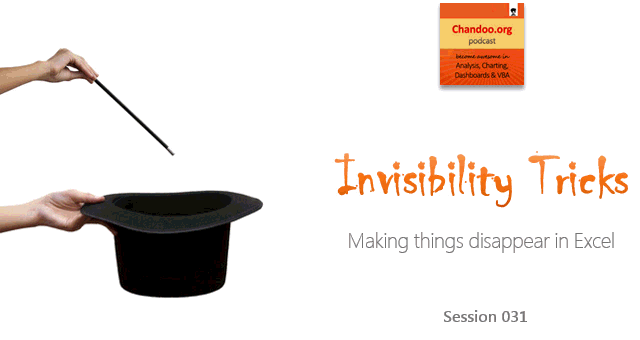 Podcast: Play in new window | Download
Subscribe: Apple Podcasts | Spotify | RSS
In the 31st session of Chandoo.org podcast, let's disappear.
What is in this session?
Spreadsheets are complex things. They have outputs, calculation tabs, inputs, VBA code, from controls, charts, pivot tables and occasional picture of hello kitty. But when it comes to making a workbook production ready, you may want to hide away few things so it looks tidy.
That is our topic for this podcast session.
In this podcast, you will learn
Quick announcements first anniversary of our podcast etc.
Hiding cells, rows, columns & sheets
Hiding chart data points
On/off effect with form controls, conditional formatting
Making objects, charts, pictures disappear
Disabling grid-lines, formula bar & headings
Hiding things in print
Continue »
Here is a quick excel printing tip. Use the page setup options from print preview area of the spreadsheet to select how you want to handle the formula errors when the worksheet is printed. You can set it to blank from the "sheet" tab of the page setup dialog in Microsoft excel
Continue »
In this installment of spreadcheats we will learn how to understand excel formula errors and fix them. The #DIV/0!, #NAME?, #N/A, #NULL!, #NUM!, #REF!, #VALUE! errors and how to fix them.
Continue »