All articles with 'Forecasting' Tag
Line charts in Excel are essential for trend analysis, spotting distribution and outliers. Use these 6 variations to get more out your line chart.
Indexed Line Chart
Sparklines
Spaghetti Line Chart
Smoothed Line Chart
Forecast Line Chart
Line Chart Combinations
Continue »
Can we predict cricket match score in Excel? Using machine learning, ensemble modeling, multiple regression and Excel formulas we can. This tutorial explains how.
Continue »
Are you hungry from some Excel awesomeness? It's launch time. I am very happy to announce that our most popular analytics online class – 50 ways to analyze data is opening up for enrollments in first week of May 2018. As the name suggests, 50 ways program is all about data and making sense of it. You will learn many ways to analyze, visualize and present data to your clients and superiors. Next time someone asks you, "Can you look at this data and tell us what is going on?" you can confidently say YES.
Learn all about 50 ways program and signup for the waiting list.
In this article, Let me show case one of the examples from 50 ways to analyze data course and how it can help you.
Continue »
One of the coolest features of Excel 2016 is forecasting. Today, let's understand how it works with a sample data set.
Watch below video to understand forecasting in Excel 2016.
Continue »
Podcast: Play in new window | Download
Subscribe: Apple Podcasts | Spotify | RSS
In the 47th session of Chandoo.org podcast, let's see how Excel can make you an awesome entrepreneur.
What is in this session?
In this podcast,
Why Excel for entrepreneurs
Key areas of a business owner's work

Projects & to dos
Finances
Customers & marketing
Planning & strategy
Processes & workflows

5 features of Excel that help
Conclusions
Continue »
Let's say you made a chart to show actual and forecast values. By default, both values look in same color. But we would like to separate forecast values by showing them in another color.
If you are a seasoned Excel user, you may be thinking, "Oh, that's easy. I will just create 2 sets of data (one for actual and one for forecast), make a chart from them and apply separate colors."
But here is a really simple way to get the same effect.
Use a semi-transparent box to mask the forecast values, as shown above. Read on to learn how to do this.
Continue »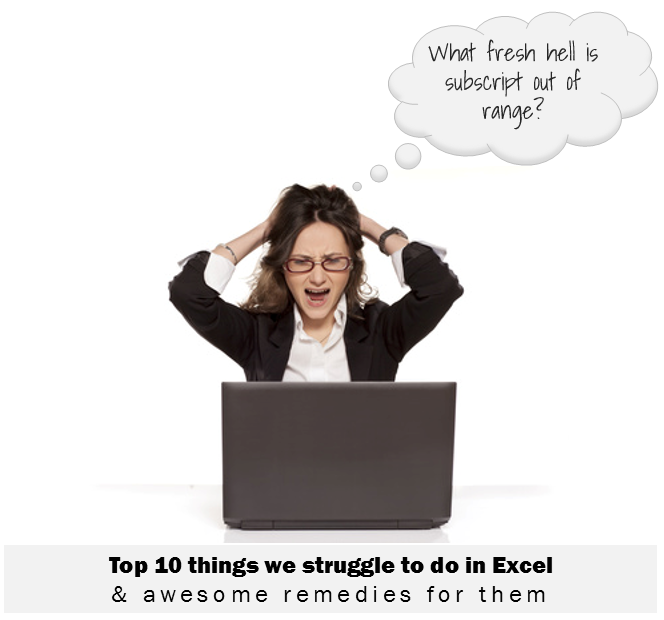 Recently we asked you, what do you struggle doing in Excel? 170 people responded to this survey and shared their struggles. In this post, lets examine the top 10 struggles according to you and awesome remedies for them.
Continue »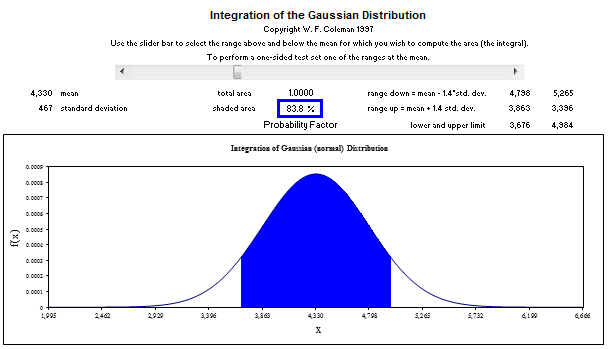 One of the most dreaded courses during my under-graduation is Probability, Statistics & Queuing Theory. We called it PSQT. I struggled to understand the significance and concept of this course as I could barely concentrate in the class. We had a professor, who is probably a genius, but the moment he started the class, I would magically fall in to one of my after-noon naps. When I woke up, we are either in the middle of an elaborate t-test or going thru intricacies of a Markovian queue.
This was all 11 years ago. Later in life, I have embraced the world of probability & statistics. I still fear queues. May be I will get there one day. 😉
A good understanding of statistics & probability theory is necessary if you want to model complex real-life problems using Excel or similar tools. Naturally, Excel has several functions, features & supported add-ins to help you in this area.
Today, I want to share some of this with you. This article is broken down in to 3 parts.
Learning Statistics & Probability using Excel
Downloadable Excel Workbooks to understand
Full blown models & simulations in Excel
Continue »
Does your data hold hidden secrets?
In Part 2 of Are You Trendy? we will examine the Excel functions that assist us in Trend Analysis.
Continue »