All articles with 'file menu' Tag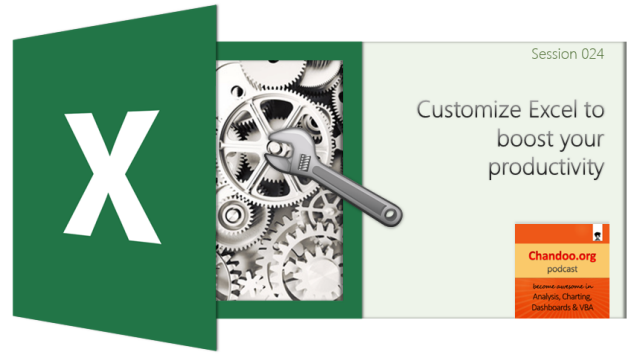 Podcast: Play in new window | Download
Subscribe: Apple Podcasts | Spotify | RSS
In the 24th session of Chandoo.org podcast, let's customize Excel so we become productive.
What is in this session?
Each of us use Excel in our own way. And yet, we all end up using the same Excel. That's not fair. Shouldn't the Excel of an accountant be different from Excel of a teacher?
In this podcast, lets understand some of the powerful & useful ways to customize Excel so that we can do our work better. Tune in only if you are serious about productivity.
You can get Excel Customization Handbook free. Listen to the podcast for instructions.
In this podcast, you will learn,
Announcements
Why customize Excel?
Customization options:

Excel Options
Quick Access Toolbar
Excel Ribbon
File menu / back stage view
Themes, styles & templates
Personal Macros

Closing thoughts & Bonus give away instructions
Continue »
In the last installment of excel 2010 features, we will explore the backstage view (or file menu) in Excel 2010.
Background on Backstage view:
Most of the windows based applications have a File menu. This is the usual place you go to create, open, save, save as, print and close. In Office 2007, Microsoft ditched menu based navigation and introduced Ribbon. They moved all the formatting, pivot, charting, formula, print etc. options to various individual ribbon tabs. But they couldn't move the functionality of File menu to a separate ribbon. Instead, they moved all this functionality to Office button – a clone of file menu.
Continue »
Here is a quick productivity tip if you work with same set of excel (or word or powerpoint) documents everyday. Just pin the documents to recent documents list in the Office Menu in MS Office 2007. See this: More excel 2007 productivity tips & double click tricks.
Continue »