All articles with 'excel hero' Tag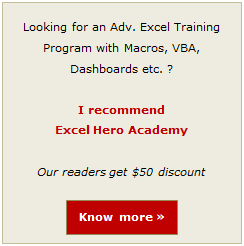 Quick Summary: Recently I have had the opportunity to test Daniel Ferry's Excel Hero Academy online training program. In this post I am going tell why it is a good program to learn Excel.
Plus you can get it for $50 OFF if you use the discount code chandoo.
Continue »
Today, I want to introduce an excel hero to you. He may not be wearing red cape or carrying latest ninja weaponry with him. But he is a hero. He can arm twist toughest sets of data to create beautiful (almost art like) charts or animations. He can a complex vba model and make it […]
Continue »