All articles with 'excel embeds' Tag
Here is an awesome way to enhance your website and impress clients. Embed an Excel calculator on your webpage. Check out below demo and if this is what you want, read on.
Continue »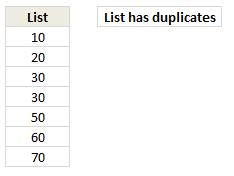 A while ago (well more than 3 years ago), I wrote about an array formula based technique to check if a list of values have any duplicates in them.
Today, lets learn a simpler formula to check if a list has duplicate numbers.
Assuming you have some numbers in a range B4:B10 as shown below, we can use MODE + COUNTIF formulas to check if there are any duplicate values in a list.
Continue »