All articles with 'excel embeds' Tag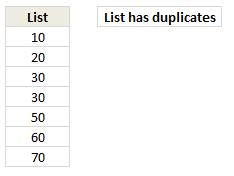 A while ago (well more than 3 years ago), I wrote about an array formula based technique to check if a list of values have any duplicates in them.
Today, lets learn a simpler formula to check if a list has duplicate numbers.
Assuming you have some numbers in a range B4:B10 as shown below, we can use MODE + COUNTIF formulas to check if there are any duplicate values in a list.
Continue »