All articles with 'easter eggs' Tag
Welcome to annual Easter Egg hunt at Chandoo.org. This year I have a feast for you. I hid 20 Easter Eggs in this workbook. Go ahead and find them. Share your solutions, clues or struggles in the comments box.
Happy hunting.
Continue »
Its Easter time. At Chandoo.org, I have tradition of publishing Easter Egg hunts since 2009. This is the first time our Easter egg hunt is on Power BI. Changing times, eh?
Continue »
It is Easter time. This is the first Easter we are celebrating in our new house. So it is bound to have so many special memories. For last 10 years (wow, it has been a decade of tradition), I have been running Excel based egg hunts every Easter. It all started in 2009, when I was living in Sweden (where Easter is a BIG thing). I had to share the enthusiasm with someone, so I made our first Easter egg hunt on the blog.
This year, join me on an Excel themed cryptic crossword clues – Easter egg hunt. Don't forget to share your scores and explanations in the comments.
Continue »
It is Easter time, and that means time for another fun Easter Egg hunt in the spreadsheet. For the last 8 years (since 2009), I have been running Easter Egg hunt at Chandoo.org. This year too, I have prepared an exciting egg extraction enigma for you. Check it out.
Can you find all the 5 hidden cells in this workbook?
First step. Download this workbook. There are five worksheets, each containing one egg. You need to find the hidden cell in each worksheet.
Continue »
It is Easter time again. This year, we drove to my brother's house in Hyderabad (700 km away from my home) to spend a weekend doing absolutely nothing (we will eat copious amount of food, share family memories, laugh and laze). It is Chandoo.org tradition to share few puzzles during Easter time, a la an Excel themed virtual Easter egg hunt. This year, I have prepared an amazing challenge for you.
Continue »
Podcast: Play in new window | Download
Subscribe: Apple Podcasts | Spotify | RSS
In the 33rd session of Chandoo.org podcast, let's turn the mic to our listeners and hear their tips. What is in this session? This session has 2 things. A surprise Easter egg (an Excel tip hidden in the podcast audio) Collection of Excel tips recorded & submitted by Chandoo.org readers Listen to this session Click here […]
Continue »
Hello Friends…,
It is Easter time again. Every year, we at Chandoo.org celebrate Easter by hunting for eggs (not in the wild, just in the Excel workbooks). This year too I have hidden 30 Excel tips in a workbook. You have to solve 3 puzzles to find them. So what are you waiting for. Go ahead and hunt for them eggs.
Click here to download the Easter eggs file.
I am sure you will enjoy them 🙂
Continue »
Sometimes you think you know something and then suddenly you are surprised. Yesterday was such a moment for me. I have been using Excel for almost a decade now. So naturally I assumed that I know it well. But then yesterday, while doing something I stumbled on a strange screen in Excel that looked like very popular Angry birds game. So I got searching. But there was no mention of it anywhere on net. Then I asked my friend Rollf 'O' Pai, who is in Micros0ft Execl team. First he denied such a thing. But we knew each other so well that he could never lie to me. So he confided. He told me what I had suspected for several years.
There is an Angry birds like video game buried in Excel!!! It was meant to be an Easter egg in Excel 2010 (and 2013), but due to backlash from senior management no one ever published the details about it.
So I asked him "How do I unlock it?". Rollf 'O' Pai asked me to never reveal it to anyone and then told me the recipe.
Once I unlocked I could not believe how cool it is!
Read on to understand how to unlock this game.
Continue »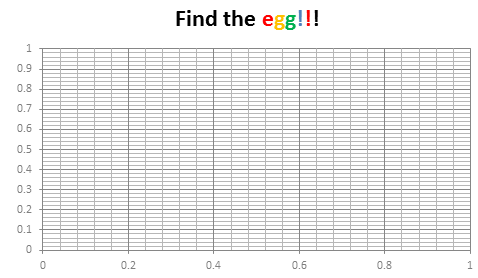 Do not worry, you are not time traveling or seeing things. Its just that, this year I have decided to publish our Easter Egg a few days early.
And oh, I have 3 reasons for it:
2 of my favorite festivals – Easter & Holi (a festival of colors, celebrated in India) are this week. Holi is today (Wednesday) & Easter on Sunday.
My kids are super excited about Holi as this is the first time they will be playing it. So we have family time from today until Wednesday and I do not feel like writing a blog entry on Friday 🙂
I like to have 3 reasons for everything.
Hence the Easter Egg is advanced a few days. But it is just as fun (or may be better) as previous Easter eggs.
Continue »
Hello Friends…,
Happy Easter 2012
It is Easter time again. It has been our tradition to hide some Easter eggs so that you have fun discovering them. I usually hide the eggs in the blog post. But this year, I went one more step and created an Excel file with 3 hidden Easter eggs.
Go ahead and find the eggs. I am sure you will love them 🙂
Continue »