All articles with 'cell styles' Tag
We can take any Excel workbook and format it until Christmas, and we would still not be done. But not many of us have so much of time or energy. So, today, lets talk formatting.
In this, you will learn how to
1) Use tables to format data quickly
2) Change colors of your worksheet in a snap
3) Use cell styles
4) Quickly clone formatting using format painter
5) Clear formats to begin with a clean-slate
6) Formatting shortcuts
7) Formatting options for print
and 8 ) Why you should not go overboard formatting and 10 other tips.
So go ahead and become a formatting pro.
Continue »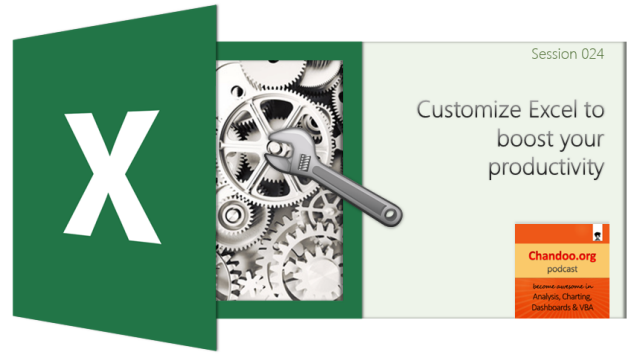 Podcast: Play in new window | Download
Subscribe: Apple Podcasts | Spotify | RSS
In the 24th session of Chandoo.org podcast, let's customize Excel so we become productive.
What is in this session?
Each of us use Excel in our own way. And yet, we all end up using the same Excel. That's not fair. Shouldn't the Excel of an accountant be different from Excel of a teacher?
In this podcast, lets understand some of the powerful & useful ways to customize Excel so that we can do our work better. Tune in only if you are serious about productivity.
You can get Excel Customization Handbook free. Listen to the podcast for instructions.
In this podcast, you will learn,
Announcements
Why customize Excel?
Customization options:

Excel Options
Quick Access Toolbar
Excel Ribbon
File menu / back stage view
Themes, styles & templates
Personal Macros

Closing thoughts & Bonus give away instructions
Continue »

In the first part on our Modeling Best Practices series, we learned 5 best practices to follow. This article shows how to automatically implement the best practices using macros.
Continue »

Our guest author, Myles Arnott discusses what Best Practice Modeling is and offers 5 practical, easy to implement tips to get you started.
Best Practice Tip #1: Apply a modeling life cycle
Best Practice Tip #2: Give structure to your spreadsheets
Best Practice Tip #3: Make cells consistent based on their behavior
Best Practice Tip #4: Use similar formulas
Best Practice Tip #5: Build error checks in to your models
Read on…
Continue »

Is Excel acting slow & taking ages? As part of our Speedy Spreadsheet Week, today lets talk about optimizing & speeding up Excel by formatting & charting better. Use these tips & ideas to super-charge your sluggish workbook.
No matter how much data you got, how many formulas you wrote, the end users seldom see them on your workbook. They see the finalized dashboard, they play with the model, they look at the report. And if you make poor choices, your end users will thing your workbook is slow.
So let me present you 7 charting & formatting tips to optimize & speed up Excel. Read on…,
Continue »
In the second part of our tutorial we will learn how to prepare the layout of our model to do project evaluation.
If you know basic referencing and formula framework in excel, you can write a model that calculates numbers. Good vs Bad financial model would be decided by the layout of the model.
Before we start discussing on how to build a good layout, lets see the layout that I have in mind. The layout is based on my experience of working as an investment banker and as a consultant and I find it neat.
Continue »
We all have atleast one story of how that one time the boss / co-worker / classmate / cat ruined the carefully crafted excel spreadsheet by mucking up the formulas or disturbing the formatting. Read this post to learn 10 awesome excel tips to make better and boss-proof excel sheets.
Continue »
Spreadsheet modeling or scenario modeling is one of the common uses of Microsoft Excel. People, especially in financial sector use MS Excel to do a lot of modeling. While excel has such powerful features like goal seek and scenarios, it also has a very useful feature called "cell styles" that you can exploit to make […]
Continue »