Archive for May, 2013
We all have some projects to manage every now and then and there are needs of various trackers that help us in gauging the progress of the same. One of the most important things are heat maps that quickly help us in visually displaying the names of the projects that need special attention and resolve issues that are impacting them.
Continue »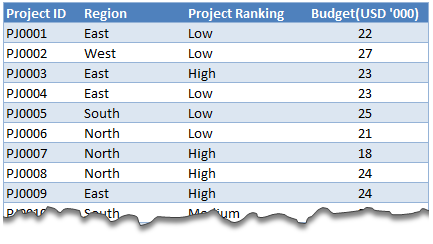 Lets say you are looking at some data as shown above and wondering what is the sum of budgets for top 3 projects in East region with Low priority. How would you do that with formulas?
Continue »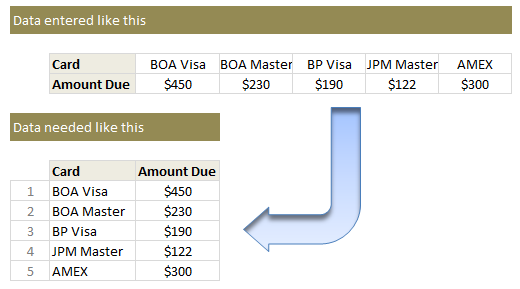 This is interesting, I am in Columbus to meet one of my college friends. I remember him as a very meticulous person from college days. So it is no surprise when he showed me his massively impressive finance tracker last night. He has been tracking expenses, income, credit card payments and gas (petrol) consumption since 2008. Very impressive indeed.
Then out of blue he said, he has a problem with his spreadsheet. In this own words,
When entering data for credit cards, I use one column per card. But in my report view, I want to show credit card details in rows. How do I do this?
Something like above…. Today, lets learn how to do this using Excel formulas.
Continue »
One of the beautiful things about working on internet is you know so much about people even before you meet them first time. I think I first heard about Mr. Excel in 2006, when I started my career as business analyst. I landed on mrexcel.com while searching for something related to doing cluster analysis using Excel. In a way, mrexcel.com inspired me to share my thoughts and techniques on Chandoo.org.
So it wont be an understatement when I say, I feel like a kid in candy store knowing that Bill Jelen aka Mr. Excel is just a few miles away from where I live. Since Rob Collie and Bill are good friends, I asked Rob if we 3 can meet for dinner. And Bill said yes.
I am meeting Bill for dinner on Friday and Rob, Bill & I will be discussing spreadsheets, technology, share our experiences and bump ideas off each other.
Continue »
Hello there,
My travel to US was fantastic and fun. Many thanks to Jocelyn & Rob Collie, who found a nice apartment for us and made sure we are settled down in almost no time. Weather has been excellent so far too with lots of sunshine and blue skies. We went to a nearby park the other day and kids really loved walking on trials and exploring.
Gentle reminder
Today is last day to sign-up for my USA Masterclass

Today is last day to join my USA Advanced Excel & Dashboards masterclass with early bird discount. If you live near Chicago, Washington DC or Columbus and love Chandoo.org style of teaching, then you will benefit alot from my masterclass. We have very few spots left in Chicago & Columbus. So go ahead and book yours today and save $200.
Click here to know more and join us.
Continue »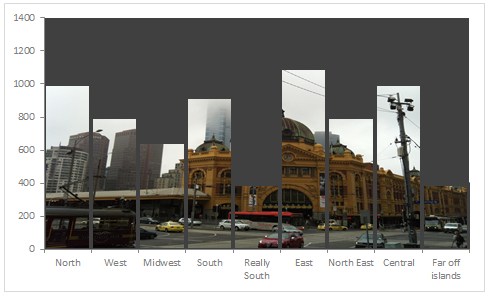 Tony sends this chart and asks if it can be done in Excel.
It sounded like a good challenge for a lazy Sunday morning. So here we go. (Posting it on Monday).
Now I could not get an oil rig photo or that data. So I made up few numbers and used a photo of Flinders street station I took when I was in Melbourne last year.
Continue »