This is interesting, I am in Columbus to meet one of my college friends. I remember him as a very meticulous person from college days. So it is no surprise when he showed me his massively impressive finance tracker last night. He has been tracking expenses, income, credit card payments and gas (petrol) consumption since 2008. Very impressive indeed.
Then out of blue he said, he has a problem with his spreadsheet. In this own words,
When entering data for credit cards, I use one column per card. But in my report view, I want to show credit card details in rows. How do I do this?
Something like this: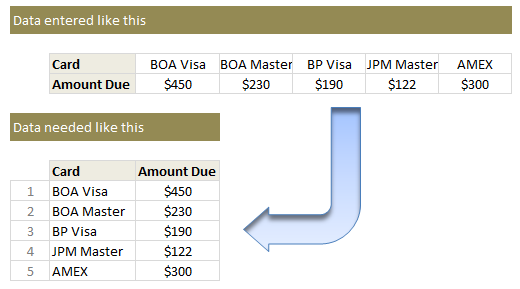 Transposing values in a row to column using formulas
If it is a one time process, my friend can use Paste Special > Transpose feature and be done. But this is no one time business. So lets understand which formula helps us do this.
Lets assume original data is in $F$4:$J$5. Row 4 has card names & Row 5 has amounts.
Wherever you want the out put, just list running numbers (1,2,3….) in a column. Lets say these are in cells D10:D14.
To get the first card name, you can use the formula =INDEX($F$4:$J$4, $D10)
To get the first amount due, use the formula =INDEX($F$5:$J$5, $D10)
Now drag both these formulas down and you are done!
This is good, but I don't like the extra column…
If that is the case, you can use the ROWS() formula to generate these running numbers for you on the fly. For example,
=INDEX($F$4:$J$4, ROWS($A$1:A1)) would work perfectly.
Learn more about: using ROWS / COLUMNS formula to generate running numbers.
Play with this formula
See the embedded Excel workbook below. Play with the formula.
(alternatives: download the example file or view it online)
How do you transpose values?
I love using INDEX formula. I use it for transposing values, tables, getting a cell value (or reference) from a large table, use it along with MATCH etc. It is a very versatile formula and I keep learning new uses for it.
What about you? Do you transpose values often? What formulas do you use? Please share using comments.
More on transposing your data:
If you like to transpose, wrestle or arm twist your data often, then you are at right place. Chandoo.org has tons of tutorials, material and tricks on this. Start with these:
Also, check out more quick tips.