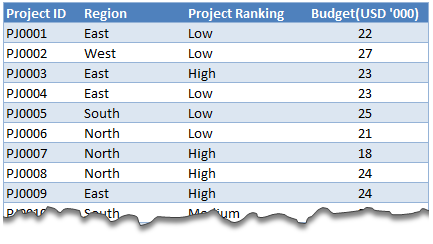 Today, lets tackle an interesting problem.
Lets say you are looking at some data as shown aside and wondering what is the sum of budgets for top 3 projects in East region with Low priority. How would you do that with formulas?
This article is inspired from a question asked by acpt22 in our forums.

Sum of top 3 values based on filtered criteria
Watch below video to understand how to find sum of top 3 values using formulas & pivot tables.
Watch this video on our YouTube channel.
Download Example Workbook
Click here to download example file and play with it. Examine the formulas & pivot table settings to learn this technique better.
Do you calculate sum of top 'n' values often?
Often, I have to calculate sum of top 'n' values and I use SUMPRODUCT + LARGE combination. SUMPRODUCT (or simply SUM) is such a versatile formula that you could almost use it when your car breaks down on a free way.
What about you? Do you calculate sum of top 'n' values? Which techniques do you use? Please share using comments.
Learn more
If you sum & count for your living, then you are going to love below tips.