Archive for July, 2011
Some of you have heard my neighbor's dog bark in a video or two that I recorded. While I was busy explaining how to do something awesome in Excel, this dog would decide to bark, adding her own two cents to the lesson. Quite a few of my VBA class students have grown used to it. So much that they complain when a lesson doesn't have a couple of woofs. But I digress.
So coming back, one of the dogs (probably stray) has decided that she should bring her infant puppies and hide them under our terrace stair case. So, now we have 2 cute little puppies barking day long (and very late in to the night) just outside my office window. We have tried hard to get rid of them, but they somehow sneak back in and start barking or crying. So, I will be busy this weekend trying to move them out.
But that doesn't mean, you have to live Excel-less for a few days. So I have a homework.
OR XOR AND, Get busy this weekend!
Don't worry. I am not speaking elvish or something. OR, XOR & AND stand for bit-wise operations. This week, your task is to write formulas in Excel that would get the bit-wise results for AND, OR & XOR.
Continue »
Hello friends & readers of Chandoo.org,
I am very excited to tell you that our financial modeling & project finance classes are open for registration starting today.
In this article, you can learn about our training program, how it can help you & payment instructions.
Continue »
Few months ago, we learned how to create a project valuation model in Excel as part of our series on Financial Modeling in Excel.
My Project Evaluation Model had a limitation!! In one of the personal comments that I received, the reader pointed out an important problem!
Continue »
Few days ago, we published an article on how to create interactive dashboards using hyperlinks. Many of you loved this tutorial. But quite a few of you also said, this tutorial is a bit complex to follow.
So, I made a short video explaining how the UDF and interactive hyperlinks work and how our dashboard is weaved together.
Continue »
Two weeks ago we asked you what you wanted to see at Chandoo.org and you responded.
We have had 71 responses giving us 101 ideas to date.
Here are the results…
Continue »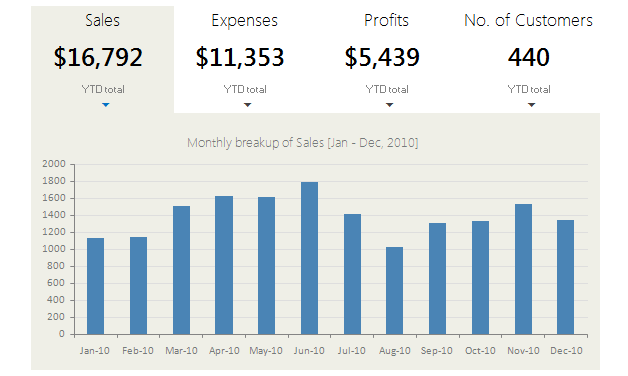 Last week we learned how to create dynamic hyperlinks in Excel. Today, I want to show you something even cooler. An interactive dashboard based on hyperlinks, like shown above.
Isn't it impressive?
Well, to create something like this, you don't need a degree in advanced cryogenics. You just need a bunch of data, a chart, a one line macro code and some pixie dust (go easy on pixie dust).
Continue »
Last time we had discussed the use of SumProduct() to ease your life for calculation of consolidated revenues and depreciation. This time we would be using the sum function! Yes you heard it right – The Sum function.
But we would use the Sum function with a small trick! We would use it to calculate running cumulative sum! And believe me, you would need this function so many times – to calculate accumulated depreciation, cumulative debt, Profits to Retained Earnings and almost all the accounts that would consolidate into the balance sheet.
Continue »
Hi there,
Do you know that Chandoo.org run an online training program on Financial Modeling & Project Finance Modeling?
So far, we have trained more than 200 students thru this program and now, I am excited to announce that from July 27th, you can join this course again.
Read this short post to understand how our program can benefit you.
Continue »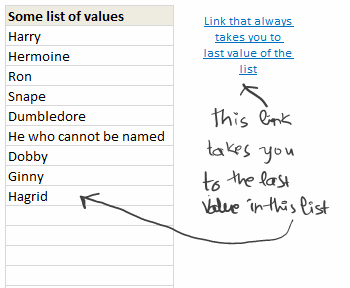 During one my recent training programs, a participant asked an interesting question.
I have a list of values. I would like to place a hyperlink in my workbook that would always take me to the last value in the list.
Something like shown aside.
Click on the image to learn how this is done.
Continue »
Chandoo.org is all about simplifying life using Excel. When I first started visiting the site, I was amazed at the amount of information on the site, which made your life easier. My next few posts would be about excel functions which can make your life for Financial Modeling easier! These are simple examples that you […]
Continue »
A quick look at Pseudo 3D and 3D Dynamic Pendulums in Excel.
Continue »
Today, let us learn how to use NPV() function in Excel & create a simple financial model.
If you are dealing with cash and valuations, you are bound to have come across the NPV function. If you don't know the assumptions behind the same, I bet it could cost you your job!
Let's take a simple project – You buy a MSFT stock for USD 100. You receive a dividend of USD 10 in the first year, USD 20 in the second year, USD 40 in the third year and then you sell it out for USD 140. If you could have alternatively put this money in bank at 10% interest rate, have you gained anything?
How do you model this in excel? In this tutorial we understand how you can use NPV to do this analysis and what kind of pitfalls you can land into!!
Continue »
A quick announcement folks. I am doing an Excel Boot-camp in Singapore this weekend (July 8-10) along with Paramdeep from Pristine. If you are interested in joining our Bootcamp, this is your last chance. Visit our Singapore Excel Boot-camp page for details & sign-up information. The last date for enrollment is Thursday, 7th of July. […]
Continue »
Our Sales Analysis Chart Contest is over and the winner is….,
Oh, wait!
I have decided to award the prize to 2 contestants. Each of them will get an Amazon Kindle Reading Device.
The winners are,
Continue »