All articles in 'personal' Category
Podcast: Play in new window | Download
In the 23rd session of Chandoo.org podcast, lets talk about my experience with Hudhud cyclone.

Note: This podcast session has no Excel tips. It is a story of how our family is surviving the effects & aftermath of destructing Hudhud cyclone that recently (on 12th October) passed thru our city. Hopefully, you still find it interesting & inspiring. If you are expecting some Excel tips, check again next week.
What is in this session?
Growing up, I lived all my childhood in coastal cities. So cyclones & severe storms are not new to me. But first time, I have experienced anything as severe, destructive & long as Cyclone Hudhud. After the cyclone, we (our family and 1000s of other families in Vizag, our city) had to endure days with no power, water, cellular signals and access to essential supplies. Fortunately, great progress has been made in the last few days and things are restoring to normalcy. We (our locality) is expecting to have power & regular water supply by this Sunday (19th of October).
Continue »
My mom will be very unhappy with this post. She always told me to focus on one thing at a time. But in this post we are talking about 3 things, not one. Sorry mom.
1. Thank you
I want to thank you for visiting chandoo.org & supporting us.
As I am about to leave to USA for attending Excelapalooza conference, I couldn't help but be amazed at how much you have given me & my family. Almost 4.5 years ago, when I left my plush corporate job to work full time on Chandoo.org, I had no clue how the future will unfold. Today my heart is full of happiness, my family is secure, my site has grown by heaps and our community (especially you) is awesome.
Without your enthusiasm to learn and keen desire to become awesome, I would not have a job (of running this website). You inspire me to learn new things everyday so that I can share them with you.
Thank you for all the visits, clicks, comments, emails, tweets, likes, signups, purchases & love.
Thank you.
Continue »
Ok people. Let me tell you that this post is almost not about Excel. It is about how one Excel blogger's (yours truly) dream of long distance cycling came true. So sit back, grab your favorite drink and read between sips.
So what is this all about?
Last Sunday (27th July) & Monday (28th), I finished my first ever 200KM bicycle ride. I rode for a little more than 12 hours, burned 5,179 calories & rode 206 kilometers.
It is definitely one of the most memorable, tiresome & uplifting experiences in my life. So naturally, I want to share the story with you.
Continue »
This weekend, lets get passionate
Few days ago, Cheryl, one of our forum members asked this question:
How do you know Excel is your passion? Or is it?

I am searching for my passion, you know that thing that makes my heart sing. I mean I am listening for the pitter-patter in my ticker. So how do I know if Excel is it? Or anything for that matter. I am looking for that thing that will make me turn my tv off. (TV is my crack, I am truly addicted). I thought it was database development and honestly I am not altogether sure that it isn't. Excel may be a substitute. A more attainable passion.
Give me some insight peeps. Some thoughts, musings, ideas.
As usual, many of our forum members chipped in with words of wisdom. Hopefully Cheryl saw their replies, if she ever managed to turn off that tv.
That gave me an idea for this week's poll.
What are you passionate about?
Continue »
This is the story of Vijay Agarwal, who received MVP Award from Microsoft on 1st of April.
Some of you know that I am a recipient Microsoft MVP award. It is an award Microsoft gives to software community leaders & contributors. Often people ask me, "Chandoo, how do I become an MVP?". So today I want to tell you how you can become an MVP.
Around first week of April, I got an email from Vijay,
Hi Chandoo,
My self Vijay Agarwal from Delhi and I am a big fan of your site/articles. With blessing of God and inspiration from legends like you, I am pleased to inform you that yesterday evening I have been awarded Most Valuable Professional (MVP) award by Microsoft for my contributions in Excel.

I congratulated him immediately. It is always a pleasure to see people succeed and get recognition for their efforts. I also asked him if he can share his MVP journey to inspire all of us at Chandoo.org. Vijay being an awesome guy, wrote and send it promptly. So here we go.
Continue »
Hi friends, readers & fans of Chandoo.org,
I want to share a happy news with you all.
On Saturday (1st of February), we bought a new car. It is Toyota Innova.
Read on to know more about the car, why we bought and a special thank you message to you.
Continue »
2103 has been the most awesome year since starting Chandoo.org.
This year, more than 10 million people have visited Chandoo.org and took steps to become awesome. Every day of 2013 felt blessed, inspired and wholesome, thanks to your support, love and kindness. Thanks to my travels (USA & Malaysia), I could meet hundreds of our readers face to face and get to know them better.
Many many thanks to you for your support in 2013.
Apart from you, my reader, there are many others who helped me in the year 2013. This message is my way of thanking them.
Continue »
Hello awesome readers of Chandoo.org,
I wish you a merry Christmas & very happy New Year 2014. May your holidays be filled with joy and warmth. And your new year with lots of hope, fun, strength and awesomeness.
I also want to tell you how thankful & fortunate I feel to have your support in this year. Your desire to learn Excel & become awesome at your work motivates me everyday to learn & share. 2013 is a memorable year in my life because of you. Thank you.
Continue »
It is thanksgiving week in USA, which means our friends & readers in America are enjoying a fun long weekend with family & friends.
Happy thanksgiving day to you and your family.
Since most of our readers will be enjoying the holiday, I want to save Excel awesomeness for next week. Meanwhile, lets have our very first Ask me anything [AMA].
Ask me anything.. what is it?
It is very simple. In the comments section, you can ask me anything. I will reply to you.
Anything from Excel to my life, SUMPRODUCT to C23.. you get the drift.
Continue »
Finally my Excel classes in USA are over. It was a lot of fun traveling to new cities, teaching Excel & dashboards to enthusiastic crowds and making new friends. As if that is not fun enough, we (Jo, kids & I) are going on a 2,000 mile, 2 week road trip starting today.
Although I am enjoying all this, I also feel bad for not taking enough time to share new tricks, ideas & techniques with you here. So, I have a wacky, wild & awesome plan for you. Join us on our road trip.
That is right. You can join me on our road trip and see what I see, learn some pretty cool Excel tricks, all while sipping coffee and stretching legs in the comfort of your office cubicle.
Continue »
This is a personal note, not an Excel tip. So grab a cup of coffee, relax and read on. As I pack our bags and run the last checks, one thought keeps crossing my mind. 'How impossible all this sounded just a few years ago'. When I quit my well paying corporate job in April, […]
Continue »
2012 has been the most awesome year since we started Chandoo.org.
The credit for this goes to our community of Excel users – that is you.
For practically every day of 2012, you have inspired me (and all of us at Chandoo.org) to learn something new, share and make you awesome. I know I say this many times, but I can never feel enough – Thank you for your support to Chandoo.org.
Apart from you, there are many other amazing people & companies that played a role in our success. In this post, let me highlight them & express my sincere gratitude.
Continue »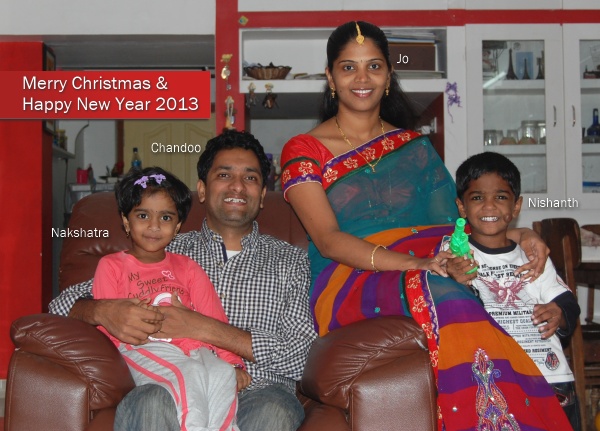 We wish you a merry Christmas & very happy New Year 2013. May your holidays be filled with joy and warmth. And your new year with lots of hope, fun, strength and awesomeness.
I also want to tell you how thankful & fortunate I feel to have your support in this year. Your desire to learn Excel & become awesome at your work motivates me everyday to learn & share. 2012 is a memorable year because of you. Thank you.
Continue »
Today is my kids' (we have twins – boy & girl) 3rd birthday. As we celebrate the day, I want to take a moment away from all Excel stuff and share my experience being a dad. Grab a cup of coffee or whatever keeps you going, relax and read on.
Continue »
As the gentleman at immigration counter stamped my passport & said, "Welcome to Australia", I could barely contain my excitement. You see, Australia has been on my list of places to visit as far back as I can remember. It finally happened on On Sunday, 29th of April 2012.
After collecting my baggage, I walked out of Sydney Kingsford Smith Airport. My friend Danielle (from Plum Solutions) is waiting for me there. Thus began my Australian adventure and it was fantastic. (Aussies so fondly use this word).
Grab a fine cup of coffee, sit back and read to know how the whole experience went.
Continue »