All articles with 'worksheet protection' Tag
Ever had a workbook with multiple protected worksheets? May be you are enterprise architect at Death Star or chief strategist at Mordor and got all the plans in a tidy little but protected workbook. Of course, you hate having to unprotect many of the worksheets every time you have a new evil plan for world domination. Don't you worry, you can use this handy little trick to unproect en masse.
Just open the workbook
Go to File > Info
Right on the top, you can see all protected worksheets and a link to unprotect them.
Click to unprotect the ones you want to.
Done.
Continue »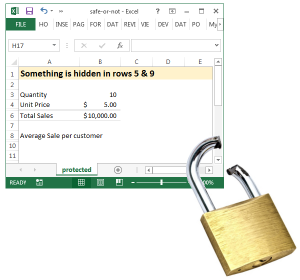 You have been there. You are looking at a complex workbook with some hidden rows /columns. You want to know what is in that hidden cells. Alas, the worksheet is protected.
It is like the special coffee machine on top floor reserved for senior executives. You know it is there, but you cannot get to it. Now what?!?
Simple. Follow this process.
(I am talking about hidden cells, not the coffee machine.)
Continue »
We all have atleast one story of how that one time the boss / co-worker / classmate / cat ruined the carefully crafted excel spreadsheet by mucking up the formulas or disturbing the formatting. Read this post to learn 10 awesome excel tips to make better and boss-proof excel sheets.
Continue »