You have been there. You are looking at a complex workbook with some hidden rows /columns. You want to know what is in that hidden cells. Alas, the worksheet is protected.
It is like the special coffee machine on top floor reserved for senior executives. You know it is there, but you cannot get to it. Now what?!?
Simple. Follow this process.
(I am talking about hidden cells, not the coffee machine.)

If the worksheet is not protected:
Select a few rows including the hidden rows (or do the same for columns)
Right click
Unhide.
If the worksheet is protected and you don't know the password:
Note the address of the hidden cell you want to expose.
Go to name box (it is beside the formula bar)
Type the cell address
Press enter.
The hidden cell's value (or formula) will be displayed in formula bar.
See this demo to understand.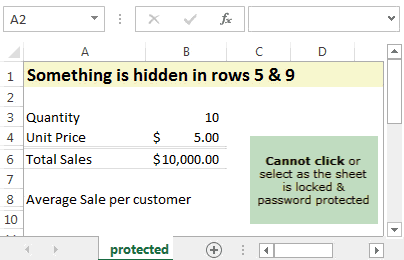 How to copy protected / hidden ranges?
If your worksheet has a bunch of ranges that are hidden (and protected), then you may not be able to select them. So how to copy such ranges?
Simple. Just follow above process and then,
Instead of entering a single cell address, enter the entire range address.
Press enter
Now press CTRL+C to copy.
Go to a blank sheet, paste. (If you paste at the same location as copied cells, then all the formula references will remain too!)
Done!
Isn't there way to protect a cell's dignity?
Unfortunately, Excel is not a fort. It is more like a sandbox. Everyone is welcome to mess with it. So if you want to keep your secrets, find a database or vault. For the rest, rely on Excel.
Now back to that coffee machine
I am not sure if there is a way cheat the coffee machine. But there is a legitimate way to get there. That is to be awesome in your work. And you are already half-way there. So all the best.
Our Excel quick tips go great with all sorts of coffee and tea. Read, sip & repeat.