All articles with 'to do list with excel' Tag
Create a beautiful & fully interactive todo list with Excel using this tutorial (or download the free todo list template). Impress everyone.
Continue »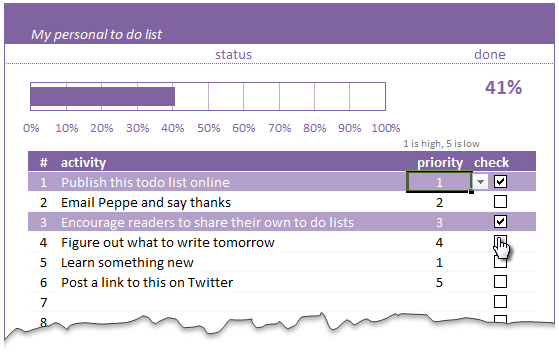 A while ago, we published a new year resolution template. This was a hit with our reader with thousands of you downloading it. During last week, Peppe, one of our readers from Italy, took this template and made it even more awesome.
The original template had tasks and completion check mark. As you finish each task, you can see the progress bar moving.
Peppe added priorities to this. With his new version, progress is measured based on how much priority we assigned that particular task. Pretty neat eh?!?
Continue »
In today's installment of project management using excel, we will learn about project tracking tool – to-do lists. Projects are nothing but a group of people getting together and achieving an objective – like building system or constructing a bridge. While it is important to have a overall project plan and vision, it is equally important to understand how various day to day project activities are going on. This is where to do lists can help you a lot. Read on…
Continue »
Time for sharing another round of excel related articles around the web. List of all data visualization and analysis excel add-ins, The list includes some of the really useful add-ins. Handy bookmark if you work with data visualization alot and need to know where to find good stuff to add to your excel capabilities. Designing […]
Continue »