All articles with 'standard deviation' Tag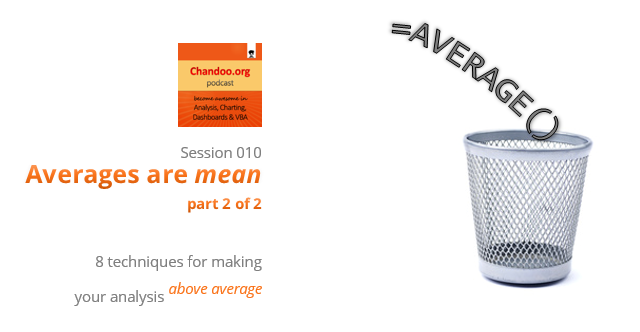 Podcast: Play in new window | Download
Subscribe: Apple Podcasts | Spotify | RSS
This is a continuation of Session 9 – Averages are mean
In the earlier episode, we talked about AVERAGE and why it should be avoided. In this session, learn about 8 power analysis techniques that will lift your work above averages.
In this podcast, you will learn,
Re-cap – Why avoid averages
8 Techniques for better analysis
#1: Start with AVERAGE
#2: Moving Averages
#3: Weighted Averages
#4: Visualize the data
…
Conclusions
Continue »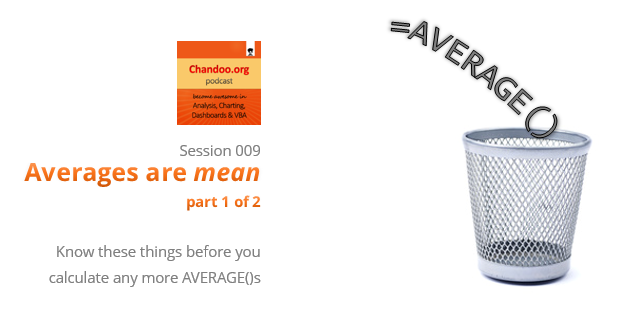 Podcast: Play in new window | Download
Subscribe: Apple Podcasts | Spotify | RSS
In the 9th session of Chandoo.org podcast, lets raise above AVERAGEs.
AVERAGEs are a very popular and universal way to summarize data. But do you know they are mean? Mean as in, AVERAGEs do not reveal much about your data or business. In episode 9 of Chandoo.org podcast, we tackle this problem and present solutions.
In this podcast, you will learn,
What is AVERAGE?
Pitfalls of averages
5 statistic concepts you must understand

Standard Deviation
Median
Quartiles
Outliers
Distribution of data

What next?
Continue »