In the 10th session of Chandoo.org podcast, lets make your analysis above AVERAGE.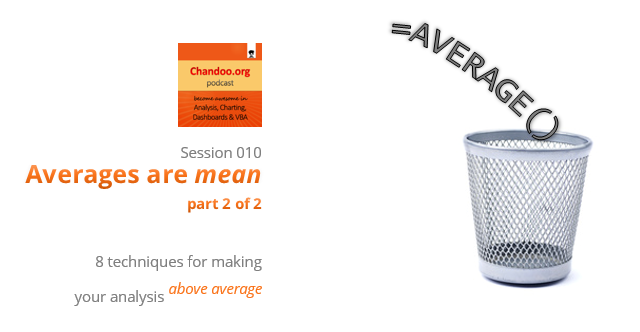 What is in this session?
This is a continuation of Session 9 – Averages are mean
In the earlier episode, we talked about AVERAGE and why it should be avoided. In this session, learn about 8 power analysis techniques that will lift your work above averages.
In this podcast, you will learn,
Re-cap – Why avoid averages
8 Techniques for better analysis
#1: Start with AVERAGE
#2: Moving Averages
#3: Weighted Averages
#4: Visualize the data
…
Conclusions
NOTE: This is a 2 part podcast. Listen to first part before hearing this.

Go ahead and listen to the show
Podcast: Play in new window | Download
Subscribe: Apple Podcasts | RSS
Links & Resources mentioned in this session:
Average Formula – Syntax, examples
Special cases:
Statistics & Probability for analyst – a guide
Transcript of this session:
Download this podcast transcript [PDF].
How do you raise above average?
For many of my reports I start with AVERAGE and then improve the metrics to show insights. I try weighted average, median, mode, visualizations and conditional averages.
What about you? What analytical techniques & formulas do you use apart from AVERAGE()? Please share your thoughts using comments.

Subscribe to Chandoo.org Podcast
Do you know that you can subscribe and receive latest episodes of our podcast right to your ears? Use one of the below links to get started.