All articles with 'moving average' Tag
Line charts in Excel are essential for trend analysis, spotting distribution and outliers. Use these 6 variations to get more out your line chart.
Indexed Line Chart
Sparklines
Spaghetti Line Chart
Smoothed Line Chart
Forecast Line Chart
Line Chart Combinations
Continue »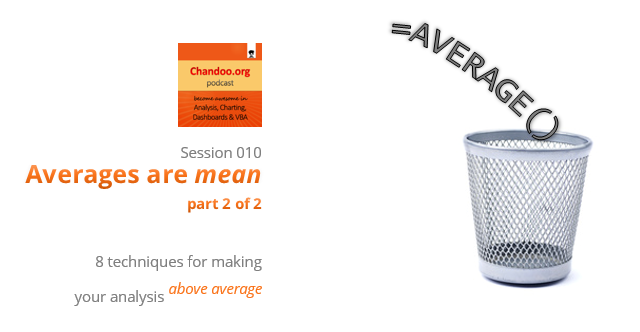 Podcast: Play in new window | Download
Subscribe: Apple Podcasts | Spotify | RSS
This is a continuation of Session 9 – Averages are mean
In the earlier episode, we talked about AVERAGE and why it should be avoided. In this session, learn about 8 power analysis techniques that will lift your work above averages.
In this podcast, you will learn,
Re-cap – Why avoid averages
8 Techniques for better analysis
#1: Start with AVERAGE
#2: Moving Averages
#3: Weighted Averages
#4: Visualize the data
…
Conclusions
Continue »
As part of our spreadcheats, today we will learn how to calculate moving average using excel formulas. As a bonus, you will also learn how to calculate moving average of latest 3 months alone using the count, average and offset formulas. Once you finish the tutorial, you have some home work to do as well. So go ahead and learn how to calculate moving averages.
Continue »