All articles with 'iseven()' Tag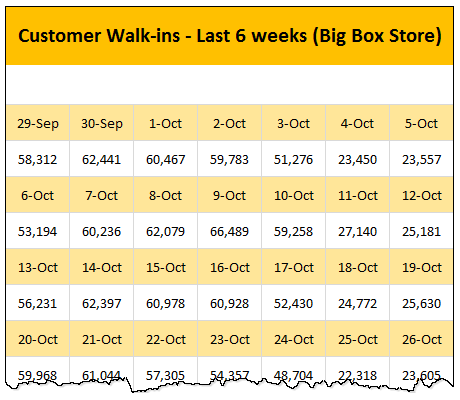 Occasionally we deal with data that is so uncooperative that we might as well give up and go back to calculators & ledger books.
Recently I found myself in such a situation and learned something new.
Introducing … data that won't play nice
Drum roll please. Here is a data-set that I got from somewhere.
The problem – build a lookup formula
And the problem. Oh, simple. Write a lookup formula to find how many customer walk-ins we have on any given day.
But how?
Continue »
How can we Add Up the Odd numbers between 1 and 100 ?
Continue »
Zebra Stripes and Checker Boards
This week in Formula Forensics I'm taking a break from Array Formulas to have a look at some Zebra Stripes and Checker Boards.
No, I haven't gone crazy, although some may argue that point.
More specifically were going to take a look at, Zebra Stripes and Checker-Board Conditional Formatting.
Continue »
Ashish sends out this SOS thru email, "I need your help in putting filters . Can we filter the cells on the basis of their even or odd character. i.e in the table of 1-1000, i wish to filter, 1,3,5,7,…"
An odd request, I must say. But nevertheless, possible in Excel.
Read this quick tip, If you want know how to filter odd or even rows only in a list of values.
Continue »