All articles with 'IRR' Tag
Do you want to simulate multiple cash-flow scenarios and calculate the rate of return? Then this article is for you. In this page, learn how to,
Introduction to IRR & XIRR functions
Calculate rate of return from a set of cash-flows with XIRR
Simulating purchase or terminal value changes with data tables
Apply conditional formatting to visualize the outputs
Common issues and challenges faced when using XIRR
Continue »
Podcast: Play in new window | Download
Subscribe: Apple Podcasts | Spotify | RSS
In the 42nd session of Chandoo.org podcast, Let's talk about money. We are going to learn about various concepts that are vital for doing financial analysis and building models.
What is in this session?
In this podcast,
Quick announcement about Awesome August
5 key finance concepts

Time value of money
Compound interest
Risk free rate of return
Net Present Value – NPV
Internal Rate of Return – IRR

Case study – Uber vs. Your car
Conclusions
Continue »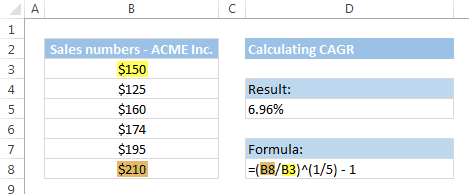 Lets talk about how we can use Excel to calculate Compounded Annual Growth Rate (CAGR for short).
What is CAGR? What does it signify?
Let us say you are the CEO of ACME Inc. You have been selling various widgets since 2009. In your latest annual report you want to tell your shareholder at what rate you have been growing ACME Inc. sales. The figure are,
2009 – $150 Mn
2010 – $125 Mn
2011 – $160 Mn
2012 – $174 Mn
2013 – $195 Mn
2014 – $210 Mn
Now, if you see the growth rates, they are all over the place. Right from -16.67% to 28%. But you want to report a single annual growth rate.
This is where CAGR (Compounded Annual Growth Rate) comes handy.
Continue »
Today, let us learn how to use NPV() function in Excel & create a simple financial model.
If you are dealing with cash and valuations, you are bound to have come across the NPV function. If you don't know the assumptions behind the same, I bet it could cost you your job!
Let's take a simple project – You buy a MSFT stock for USD 100. You receive a dividend of USD 10 in the first year, USD 20 in the second year, USD 40 in the third year and then you sell it out for USD 140. If you could have alternatively put this money in bank at 10% interest rate, have you gained anything?
How do you model this in excel? In this tutorial we understand how you can use NPV to do this analysis and what kind of pitfalls you can land into!!
Continue »
This is a guest post written by Paramdeep from Pristine. Chandoo.org runs Financial Modeling School program in partnership with Pristine Careers. Visit Financial Modeling School to learn more and sign-up for our newsletter.
Greetings!
It's been long time since we interacted on Chandoo.org. Actually I was very busy teaching the 105 awesome students for financial modeling in Excel. We all worked together to create some easy and some complex financial models. I found the journey to be quite exciting and enriching (From the feedback that I got, my students too didn't find it bad either 😉 )
During the interaction, I found that a lot of students were looking for financial modeling around the project financing as well. So we thought why not introduce financial modeling for project finance.
In this post I will speak about some of the key aspects of a project finance model and why it can be different from modeling a normal company.
Continue »
This is a guest post written by Paramdeep from Pristine. Chandoo.org is partnering with Pristine to bring an excel financial modeling online training program for you. This is Part 6 of 6 on Financial Modeling using Excel In this tutorial we are going to learn how to build assumptions & input sheets in our excel […]
Continue »
Excel is very good for keeping track of your investments. Due to its grid nature, you can easily create a table of all the mutual fund holdings and monitor the latest NAVs (Net Asset Values) to see how your investments are doing. A while back we have posted a file on tracking mutual funds using excel. Today we are going to release an upgrade for that file.
Read the rest of this post to understand how this template works and download the free template.
Continue »