All articles with 'INDEX()' Tag
VLOOKUP may not make you tall, rich and famous, but learning it can certainly give you wings. It makes you to connect two different tabular lists and saves a ton of time. In my opinion understanding VLOOKUP, INDEX and MATCH worksheet formulas can transform you from normal excel user to a data processing beast. Today, […]
Continue »
Time for some good, old fashioned VLOOKUP love. Let's say you are writing VLOOKUP()s to get data from an unusually fat table, ie one with heaps of columns. You want to get to lookup ID in first column and get thingamajig in what is that column number. Well, better get counting from 1 and after 19 seconds and lots of squinting you arrive at column number 53 – which has thingamajig. 
If this sounds like your VLOOKUP routine, check out these three amazingly simple tips to save some time and effort with your lookups.
Continue »
Excel Tables have been around for a decade now (they are introduced in Excel 2007), and yet, very few people use them. They are versatile, easy and elegant. At Chandoo.org, we celebrate Tables all the time. If you have never used them, start with below tuts.
While tables are super helpful, they do come with some limitations. Today let's examine one such unique problem and learn about an elegant solution.
Continue »
Imagine you run an office furniture company. You want to stop reordering two brands of furniture – Relaxer (a type of chair) and Boca Top (a type of table). You currently have 20,000 Relaxer chairs and 5,000 Boca Tops. These are valued at $200,000 and $100,000 respectively. When sold, they will yield $100,000 and $25,000 gross profit. You are hoping to sell them off in 2 or 3 years. You forecast that we can sell off these as per some yearly schedule.
You need to analyze this and prepare a cash flow model.
Let's learn how to answer such open ended questions using various analysis techniques in Excel.
Continue »
Late. Jayaram, my uncle is also a teacher. When I was a kid, I used to spend a lot of time with him, learning all sorts of things. He taught me chess, maths and so many life lessons. I remember one such lesson very vividly.  One day, he asked me to do something. I did it in a very long way. After seeing me struggle for several minutes, he chipped in and showed me how to do it easily. He then said, "when someone asks you where your nose is, you don't twist arm around your head. You just point to your nose directly."
The idea is that when you have a direct, simple way to do something, you should use it.
Nose and pivot tables… how are they connected?
We are coming to the point. Read on for full case study and solution.
Continue »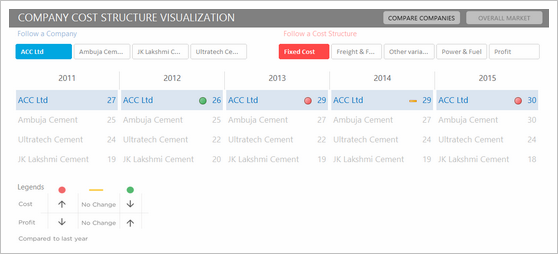 In this amazing guest post, the winner of our 2016 dashboard contest – Chandeep – Explains how he constructed the jaw dropping beauty (shown above) using Excel, creativity, love and sweat. Grab a full cup of coffee (or whatever liquid fancies you) and read on. Take lots of notes and play with the ideas in Excel while reading to maximize your learning.
Thanks Chandeep.
Continue »
Let's say you have some employee data in employee name, manager name format. But the data is all in one column, with odd rows containing employee names & even rows containing manager names. Something like above.
And you want to find out who is the boss for a given employee. Say, "Andrea Nichols".
Your regular MATCH() formula for Andrea over the data range returns wrong answer as it will find first occurrence of Andrea (which in this case happens to be on even row, hence a manager record).
So how would you write the lookup formula?
Continue »
First a quick personal update: There has been a magnitude 7.8 earth quake in NZ on 14th November 2016 early morning. It is centered in Kaikoura, which is about 250 km away from Wellington. We did feel several shakes and after shocks. It has been an interesting and often scary experience. But my family is safe. I feel very sad for the all the damage and the loss for families in NZ. If you suffered from this quake, My prayers and thoughts are with you.
Yesterday, a friend asked me an interesting question. He has school distance data, like above. He wants to know which is the closest school for each school.
There are a few ways to answer this question. Let's examine two approaches – formulas & pivot tables and see the merits of both.
Continue »
Podcast: Play in new window | Download
Subscribe: Apple Podcasts | Spotify | RSS
Ladies & gentlemen, its time we revived the much loved Chandoo.org podcast. In the 55th episode, I do a lousy imitation of Arnold Schwarzenegger's famous "I will be back" and tell you why there was such a long gap between episodes, my plans for reviving our podcast and more.
What is in this session?
In this podcast,
Why there was such a long gap between last and this episode
What next?
How to extract every 6th item from a list?
Continue »
Over the years, we have discussed a whole heap of techniques to visualize budget vs. actual charts. Today let's take a ride on this slope again and learn another fun, silly & awesome way to depict target vs. actual progress.
Introducing biker on a hill chart
Tada!!!
Biker on a hill!?! Don't worry, I didn't fall down on a descent and lose my brain. I am talking about an Excel chart to visualize target vs. actual progress on a time line with biker on a hill analogy. See the above chart, you will know.
Looks interesting? Read on to learn how to create this in Excel.
Continue »
Learn how to convert a Roman Numeral to a Number using this nifty formula. No VBA required.
Continue »
Over the weekend, I got an email from Mr. E, one of my students. Mr. E works at a police department in California and as part of his work, he was looking at calls received by police. Whenever police get a call for help, multiple teams can respond to the call and go to the location. All of these dispatches are recorded. So a single call can have several such dispatches. And Mr. E wanted to findout which team responded the first. The problem?
Finding the first responded team is tricky.
Today let's take up this problem as a case study and understand various methods to solve it.  We are going to learn about writing better lookups, pivot tables, power pivot and optimization. Put on your helmets, cause this is going to be mind blowingly awesome.
Continue »
Recently I saw an interesting Earth Venus cosmic dance video on Facebook. See the original video below or here.
Although this is not entirely accurate from physics & astronomy perspectives, the dance is a stunning example of patterns that are generated by simple things.
I wanted to recreate this cosmic dance in Excel. How else am I to get my spreadsheet fix on a Saturday?
Here is a quick demo of the final outcome. Read on to learn more about the Earth Venus cosmic dance.
Continue »
This is part two of our three part series on how to analyze half a million customer complaints. Read part 1 here.
Analyzing Regional Trends
As introduced in part 1, our complaints dataset has geographical information too. We know the state & zip code for each complaint. Please note that zip codes are partial or missing for a 10% of the data.
In this article, let's explore three ways to analyze regional trends.
Regional trends by state, product & issue
Complaints per million by state
Complaints by zip code
Continue »
Lets look at how to apportion sales according to multiple criteria
Continue »