All articles with 'Hidden' Tag
Last week, we talked about how to copy and paste visible cells alone (ie exclude any filtered rows or hidden columns etc.) In the comments section many of you suggested two more ways to deal with this annoying problem. Let's take a look them.
Continue »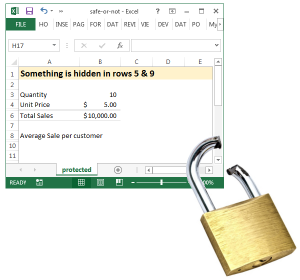 You have been there. You are looking at a complex workbook with some hidden rows /columns. You want to know what is in that hidden cells. Alas, the worksheet is protected.
It is like the special coffee machine on top floor reserved for senior executives. You know it is there, but you cannot get to it. Now what?!?
Simple. Follow this process.
(I am talking about hidden cells, not the coffee machine.)
Continue »
The Properties button on the Developer Tab in Excel 2007/10 can be used to access a number of Worksheet properties normally only available through VBA and even a few which aren't available through VBA.
Lets take them for a spin.
Continue »
New to Excel 2007 is the Picture Selection Pane.
This is a neat little tool which allows quick sorting and editing of the visibility of pictures and other objects on a worksheet.
Continue »