All articles with 'guest' Tag
Podcast: Play in new window | Download
Subscribe: Apple Podcasts | Spotify | RSS
In the 34th session of Chandoo.org podcast, Let's hear from Jordan Goldmeier – my friend, fellow blogger, Excel blogger & author. After many years of interaction thru email, blogs, Skype calls, finally I met him at PASS BA conference at Santa Clara this week. He gave me a copy of his new book – Advanced Excel Essentials and I immediately asked him to do a podcast. So here we go.
What is in this session?
In this podcast,
Introduction
What is this book all about
Sample chapter review – User forms
Design principles for creating advanced user interactions
How to become advanced Excel user – pathway recommended by Jordan
More info about Jordan
A secret for you
Continue »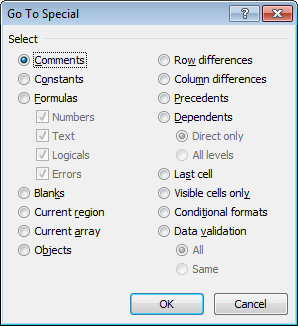 We briefly covered Excel's Go To Special function in the Managing Spreadsheet Risk series and in this post, we are going to explore Go to special feature in detail and learn how to use it.
What is Go To Special?
Go To Special is a tool within Microsoft Excel that enables you to quickly select cells of a specified type within your Excel worksheet. Once you get to grips with this function and what it can be used for you will wonder how you ever lived without it. Read on…,
Continue »