All articles with 'dan' Tag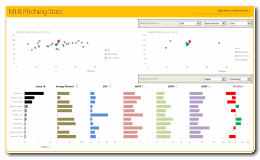 Nothing gives a teacher more satisfaction than seeing a student apply the knowledge to do something awesome. So naturally, I jumped with joy when I got this email from Dan, one of my VBA Class students,
Hi Chandoo,
After going thru your VBA Classes, I realized that we can lots of awesome stuff with pivot tables + simple macros. I recently created an Excel Dashboard to depict MLB (Major League Baseball) Pitching Stats. I could not have done this had I not learned VBA. Thank you so much for teaching the class.
I got curious and requested Dan, if I could share the file with you all. Being a lovely person, Dan agreed immediately.
Continue »