All articles with 'axis scaling' Tag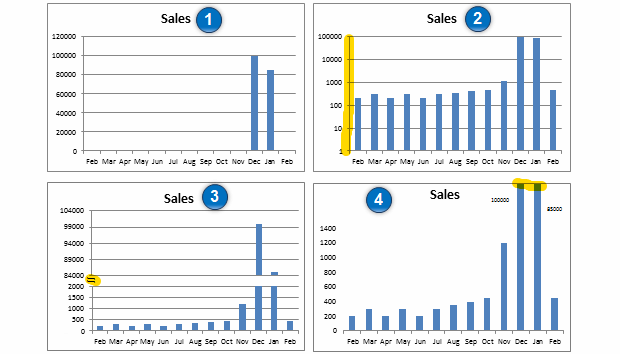 Here is an interesting charting problem we come across once in a while. We have a lot of small numbers and a few very large numbers. How do we effectively plot all of them in a chart?
Now, how do you go about making a chart?
Continue »
First of all, thanks everyone for making the should you always start barcharts at zero? discussion lively. Almost everyone felt that we should start bar charts at zero. After spending sometime with my initial test cricket statistics dashboard, I have created few alternatives. You can see them below. But somehow I feel that I haven't […]
Continue »
It all began with my Excel Dashboard Tutorial – Making a dashboard with player statistics. I have used bar charts with axis whose minimum is not zero, to create a dramatic effect in the charts. See below: Jon Peltier commented saying that, Rule #1: Bar and column chart value axes should start at zero. Since […]
Continue »