All articles with 'advanced powerpivot' Tag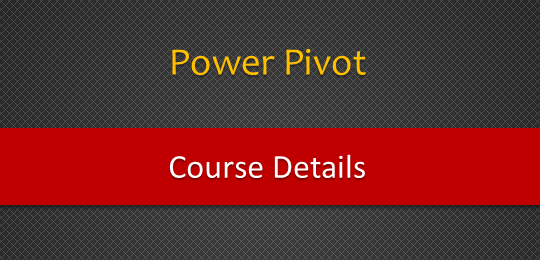 As we are getting ready to open enrollments for my upcoming Power Pivot online class, I am having a very busy and exciting time. Today, let me share few more details about our course.
First about the Power Pivot
Power Pivot adds world-class Business Intelligence (BI), Reporting and analysis capabilities to plain old Excel. It lets you connect, analyze and visualize massive amounts of data with ease.
While this technology is hugely empowering it is also has a steep learning curve for many of us. So in 2013 I started an online class to teach Power Pivot. So far I have trained more than 800 people on Power Pivot. Most people (and businesses) have transformed the way they analyze data and present results once they discovered what Power Pivot can do.
And now, I am very glad to tell you that my Power Pivot course along with Rob Collie's Advanced Power Pivot course (aka Power Pivot University) is open for new session.
We are opening these courses for enrollment on 10th of February (Next Monday) for your consideration.
Continue »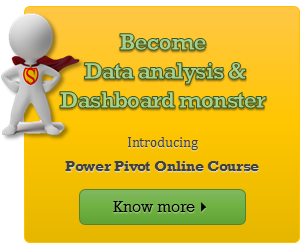 Hi friends, readers and supporters,
I am very glad to announce that our Power Pivot & Advanced Power Pivot classes are now open for you. If you are ready, Click here to join us.
Those of you new to this, read on.
What are these classes?
These days almost any job requires data analysis & presentation of results. While anyone can put a list of values in Excel & sum them up, not everyone can do advanced analysis, create charts, make them interactive, summarize data intelligently, present output in an intuitive dashboard or slice & dice data using Pivot tables & Power Pivot. Having these vital skills can make you invaluable to your organization & expose you to new opportunities. Not to mention the amount of time, money & effort you can save by efficiently using Excel.
That is why we have created 3 powerful courses – Excel School, Power Pivot & Advanced Power Pivot classes. Think of these as steps in a ladder.
Continue »