All articles with 'address' Tag
Find the Cell Address for a value from a 2D or 3D Range
(2D & 3D Reverse Lookup)
Continue »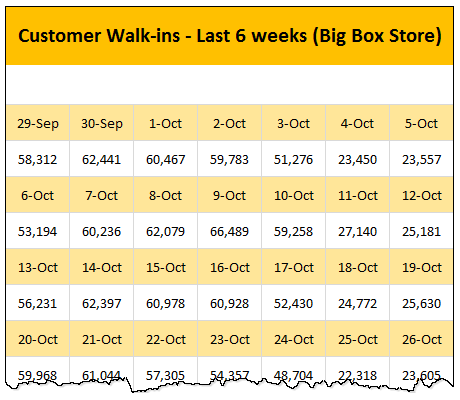 Occasionally we deal with data that is so uncooperative that we might as well give up and go back to calculators & ledger books.
Recently I found myself in such a situation and learned something new.
Introducing … data that won't play nice
Drum roll please. Here is a data-set that I got from somewhere.
The problem – build a lookup formula
And the problem. Oh, simple. Write a lookup formula to find how many customer walk-ins we have on any given day.
But how?
Continue »
Sometimes you think you know something and then suddenly you are surprised. Yesterday was such a moment for me. I have been using Excel for almost a decade now. So naturally I assumed that I know it well. But then yesterday, while doing something I stumbled on a strange screen in Excel that looked like very popular Angry birds game. So I got searching. But there was no mention of it anywhere on net. Then I asked my friend Rollf 'O' Pai, who is in Micros0ft Execl team. First he denied such a thing. But we knew each other so well that he could never lie to me. So he confided. He told me what I had suspected for several years.
There is an Angry birds like video game buried in Excel!!! It was meant to be an Easter egg in Excel 2010 (and 2013), but due to backlash from senior management no one ever published the details about it.
So I asked him "How do I unlock it?". Rollf 'O' Pai asked me to never reveal it to anyone and then told me the recipe.
Once I unlocked I could not believe how cool it is!
Read on to understand how to unlock this game.
Continue »
2011 has been the most awesome year since we started Chandoo.org.
Without doubt, the credit goes to our community – that is you.
I feel very fortunate to have you in our community. You inspire me to learn & share. I know I said this several times, but everytime, I feel like I have not done enough. Thank you so very much.
Apart from our little community, I feel thankful to many others, who have helped me through out 2011 to make you awesome in Excel. In this post, I am highlighting them & expressing my gratitude.
Continue »
2010 has been phenomenally awesome for Chandoo.org.
Obviously, most of this success is due to the fantastic community here. That is you.
I feel really fortunate to have you in our community. You constantly inspire and motivate me to learn and share new things. Thank you very much.
But, apart from the vibrant community here at chandoo.org, I am also thankful to several others. I would like to remember all the kind souls who helped me through-out this year to make more of you awesome in Excel.
Continue »