CP006: How to be a better analyst? – Road map for getting better at Data Analysis & Improving your career prospects
In the 6th session of Chandoo.org podcast, we focus on making you a better analyst.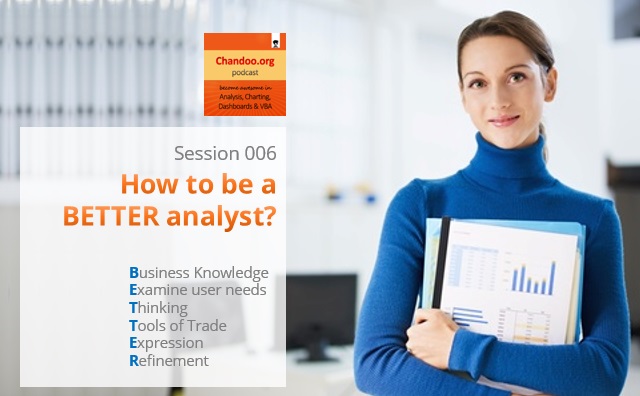 Before we proceed in to the session, let me remind you:
Subscribe to Chandoo.org Podcast
Do you know that you can subscribe and receive latest episodes of our podcast right to your ears? Use one of the below links to get started.
What is in this session?
One of the most popular questions I get, goes like this:
I recently became an analyst. I want to succeed in my work. How do I go about it?
So in this episode, lets explore the road map to becoming a better analyst.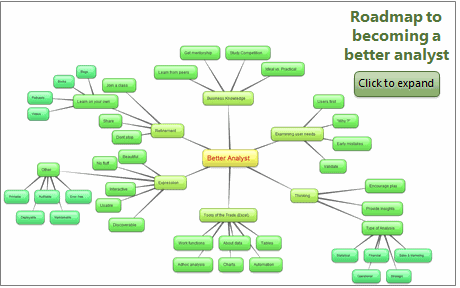 In this podcast, you will learn,
Announcement about Easter Egg hunt
Why become a better analyst?
The road map for becoming a better analyst – BETTER framework
B for Business Knowledge
E for Examining user needs
T for Thinking about analysis
T for Tools of Trade ie Excel
E for Expression
R for Refining yourself
Conclusions
See the mind-map aside (click on it to expand) to understand the BETTER framework.
Go ahead and listen to the show
Podcast: Play in new window | Download
Subscribe: RSS
Links & Resources mentioned in this session:
Easter Egg Hunt:
Courses mentioned:
Case Studies
Resources to learn Excel
Functions
Understanding Data
Excel Tables
Ad-hoc Analysis Tools in Excel
Charting & Reporting
Automation & VBA
Making Interactive Charts in Excel
Spreadsheet Errors & Auditing
Transcript of this session:
Download this podcast transcript [PDF]
Are you becoming better analyst?
As a CEO of a small company, most of my time is spent on analysis & decision making.  So I am always looking for ways to improve my skills.
What about you? How do you become better at your job. Please share your tips, ideas & inspiration in the comments.
Hello Awesome...
My name is Chandoo. Thanks for dropping by. My mission is to make you awesome in Excel & your work. I live in Wellington, New Zealand. When I am not F9ing my formulas, I cycle, cook or play lego with my kids. Know more about me.
I hope you enjoyed this article. Visit Excel for Beginner or Advanced Excel pages to learn more or join my online video class to master Excel.
Thank you and see you around.
Related articles: